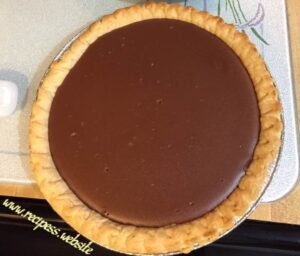 HOW TO MAKE CHOCOLATE PIE:
Here is my recipe that was handed from my momma, its the same pies I have eaten since I was a kid.
Preheat oven to 400 and bake 2 pie crusts till golden brown and cool while crusts are cooling mix together in a heavy saucepan 3/4 cup Hershey's cocoa, 2/3 cup of flour sift flour and cocoa in saucepan add 1 3/4 cups sugar mix well and add 1 1/2 quarts of whole milk mix well, add 1 stick of butter and 2 teaspoons of real vanilla.
In a bowl separate 3 eggs reserve egg whites for meringue,take a little of the chocolate and mix into egg yolks and return to saucepan whisk and cook until thick pour into cooled pie crusts then make meringue and top with meringue and brown refrigerate till cold and ready to serve.
You will have some extra filling left over after you fill the crusts.I use deep dish pie crusts as well.
One more thing you have to constantly stir the filling as it will stick to bottom of the pan if you don't, I know most cooks know this.
Enjoy.