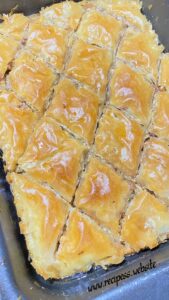 HOW TO MAKE CHRISTMAS BAKLAVA?
Baklava is a sweet dessert made up primarily of layers of flaky phyllo dough filled with crushed nuts and sweetened with honey syrup. Baklava is traditionally served throughout the Middle East.
My family's secret baklava recipe is prepared with layers of crisp phyllo dough soaked in honey and a nut mixture flavored with cinnamon and walnuts, all of which are baked together. Baklava is the ideal treat to prepare ahead of time since it tastes even better the following day!
As a kid, I grew up eating baklava at every event, and as an adult, I've developed a somewhat snobbish attitude about baklava. Nothing compares to the taste of freshly baked baklava. This pastry has a crisp, flaky texture similar to phyllo pastry. The crunchiness of the filling. In addition to the heated honey syrup. It's everything I've ever wanted in a dessert.
Making honey baklava at home may seem to be a difficult task, but believe me when I say that it is simpler than you think. This fool-proof recipe will have you baking Greek baklava like a pro in no time at all! And since it's a dessert that can be made ahead of time, there's no need to hurry through it!
Traditional Turkish baklava, commonly known as "Fistikli" baklava, is generally made of phyllo dough, crushed pistachios, melted butter, and a simple syrup prepared with sugar, water, and lemon juice. This lovely delicacy is available in a variety of forms, ranging from Middle Eastern baklava, in which the simple syrup is flavored with rosewater, to Greek baklava, which has walnuts and a liberal sprinkle of cinnamon inside the pastry. Just give this recipe a try, and you'll see that this Greek baklava is an amazing treat, you'll never be disappointed!
INGREDIENTS LIST:
Phyllo dough, I used one package.
Four cups.Of chopped walnuts, you can use pecans also.
Ground cinnamon, you only need one small spoon.
Melted butter, one stick and a half.
2 Cups.Of honey.
Half a Cup.Of water
Half a Cup.Of granulated white sugar.
3 small spoons.Of vanilla extract.
PREPARATION:
Step 1:
Remove the phyllo dough package from the freezer and set it in the refrigerator for 24 hours to let it defrost completely. Remove the container from the refrigerator 1 hour before use.
Step 2:
While working with the phyllo dough, remove just the sheets you use immediately, covering the remaining sheets with plastic wrap and then a damp tissue paper.
Step 3:
Combine the chopped walnuts and cinnamon in a large mixing bowl, and set It aside for later use.
Step 4:
Set the oven's temp to 350 degrees Fahrenheit. Prepare a rectangle baking pan by rubbing it with a lot of butter. Please make sure the sheets of phyllo will fit the pan (if they are a bit larger, that is OK). If they're much larger, just trim them with a sharp knife.
Step 5:
Melt the butter and brush it over the top sheet of phyllo, then grab it and the unbuttered sheet below it and fold them together. Place the two sheets in the pan with the greased sheet on the bottom, and now press the mixture into the pan lightly.
Step 6:
At this step, you need to repeat the same process twice more to ensure that you have six sheets of phyllo in the pan, with three of the sheets being buttered.
Step 7:
Add enough walnuts to create a single layer of walnuts on top of the dish. Butter two sheets of phyllo dough and lay them on top of the walnuts to make a sandwich. Add another layer of walnuts, followed by two more greased phyllo sheets.
Step 8:
Repeat this process a couple of more times, or until you've used up all of your walnuts. Finish with 4 additional buttered phyllo sheets and a buttered top to complete the look. Using a very sharp knife, cut a diamond pattern in the baklava in a diagonal direction.
Step 9:
Baklava should be baked for 45 minutes, just until it reaches a rich, golden brown color.
Step 10:
Meanwhile, melt 1 stick of butter in a saucepan over medium heat, stirring constantly until the honey, water, sugar, and vanilla are well combined. Bring to a boil, then turn the heat down to a low setting.
Step 11:
When you take the baklava out of the oven, sprinkle half of the saucepan over the top in a uniform layer all over.
Step 12:
Allow it to rest for a minute to absorb the moisture, then sprinkle on a bit more until you believe it's completely hydrated before moving on. You'll most likely have some of the honey combination leftovers, which you may sip via a straw if you prefer. I'm joking, of course.
Step 13:
Allow the baklava to cool, uncovered, for several hours before cutting into pieces, and remove them from the pan carefully after they have cooled and become sticky and delicious, you can also give them as a gift!
Making baklava from scratch for the first time? These simple step-by-step and professional directions will guide you through the process of making the BEST honey baklava every time!