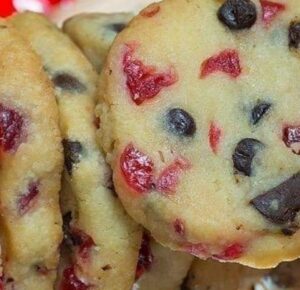 HOW TO MAKE CHRISTMAS MARASCHINO SHORTBREAD
Holiday Maraschino Cherry Shortbread Cookies… Christmas, the New Year, Santa Claus, Christmas Trees, and Cookies… these days it seems like everything is about the holidays. I have a lot of anticipation, and I can't wait to celebrate the holidays with my loved ones. We have already begun getting ready for Christmas, and as you may know, one of my favorite holiday traditions is baking cookies. 
Together, my kid and I are an unbeatable team in the kitchen. He is my "little assistant," and together, we create magic. My wife and I have decided to throw a pleasant surprise party for my husband by baking his favorite shortbread biscuits. They are so simple to prepare while yet managing to retain their uniqueness. 
You may make a variety of forms out of them, as well as use a wide variety of preparation and decorating techniques for them. I went for Maraschino Cherry Shortbread Cookies because I think the maraschino cherry embedded in the center gives them an air of sophistication.
INGREDIENTS YOU'LL NEED: 
All-purpose flour; I used 125 grams.Of
40 grams.Of powdered sugar
2 1/2 large spoons.Of cornstarch. 
2/3 Cups.Of softened unsalted butter. 
1/2 small spoon.Of vanilla extract. 
A pinch of salt. 
Maraschino Cherries. 
DIRECTIONS: 
Step 1:
First you need to turn the temperature in the oven up to 350 degrees F. Prepare the baking dish by lining it with parchment paper, then set it aside. 
Step 2:
Sift the flour and cornstarch together into a medium bowl. Leave aside. 
Step 3:
Mix butter and sugar with an electric hand mixer on medium speed in a large bowl until it gets light and fluffy. 
Step 4:
Mix some more after adding a dash of vanilla essence and a little bit of salt. And now, combine the flour and cornstarch in a bowl. To get a smooth and silky dough, it is necessary to mix for a longer period at a lower speed. 
Step 5:
Make balls that are approximately 1 inch in diameter. Put them in the dish designated for baking. Put cookies approximately 5 centimeters (about 2 inches) apart. 
Step 6:
Finally, add a Maraschino cherry on top of each ball of dough, then push down on the cherry with your finger until about two-thirds of it is embedded within the ball. Bake for 10/12 minutes. 
Step 7:
To really enjoy, you must patiently wait until they have cooled off.