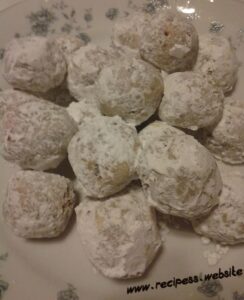 Made Pecan balls they are so good and easy to make !
Preheat oven 275 degree's
1 cup crushed pecans
2 tablespoons granulated sugar
1/2 cup butter ( 1 stick )
1 cup flower
1/4 teaspoon salt
Use a mixture and combined butter flower and sugar
Next:
Add crushed pecans and salt mix well with spoon
I use a cookie scoop for each pecan ball roll dough into a ball
Bake at 275 degree's 45 minutes.
Let cool completely then roll in powder sugar ! That's it.
Enjoy.