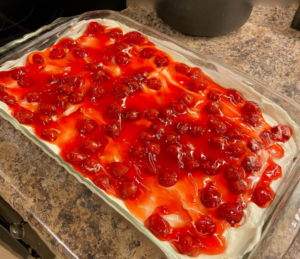 HOW TO MAKE CLASSIC CHERRY DELIGHT
This recipe for Cherry Delight has a cheesecake filling that is both chilled and creamy, a graham cracker crust, and a cherry pie filling that is created from scratch as the topping. It's a no-bake dessert that's a timeless classic, and the combination of cheesecake and cherries is a match made in heaven! If you're searching for a simple dessert, this is the one for you!
This Cherry Delight covers so many different bases since it is a dessert that does not need baking, it is an excellent way to utilize fresh cherries, and it is ideal for creating ahead of time for potlucks or other parties when you need a delicious dessert. Oh, and the taste: one of my all-time favorite flavor combinations is cherries and cheesecake, and this one has both! The sour and sweet cherries provide a pleasing contrast to the creamy texture of the cheesecake filling. Adding the graham cracker crust brings the entire thing to a satisfying conclusion.
It's a wonderful treat that requires no baking at all! It consists of a graham cracker crust, cheesecake filling, and cherry pie filling on top, with the crust being the bottom tier. It preserves well and can be prepared ahead of time, which are both reasons why it is so popular at potlucks.
It's very much like cherry yum yum, which has the same graham cracker, cheesecake, and cherry combo but is piled in such a way that the cherry pie filling is in the center rather than on top. This dessert is delicious. If you're from the West, you may call it a strawberry pretzel salad, but if you're from the South, you might call it a cherry delight salad since it's essentially the same thing as strawberry pretzel salad but prepared with cherries instead of strawberries.
THE INGREDIENTS LIST:
TO MAKE THE CRUST, YOU'LL NEED:
1 1/2 Cups.Of graham cracker crumbs.
7 Tbsp.Of unsalted butter – melted.
1/4 Cup.Of packed brown sugar.
A pinch.Of kosher Salt.
¼ Tsp.Of ground cinnamon; it's optional!!!
FOR THE FILLING, THESE ARE THE INGREDIENTS NEEDED TO MAKE IT:
Softened Cream Cheese; I used an 8-ounces block at room temp.
1 Cup.Of powdered sugar.
A 8-oz container of Cool Whip.
1 Tsp.Of vanilla extract
AND AS A TOPPING, I USED:
Canned Cherry Pie Filling; I used a 20-ounces can.
PREPARATION:
1st Step
In a small bowl, use a fork to combine graham cracker crumbs, salt, cinnamon, brown sugar, and melted butter. Continue to stir the mixture until all of the cookies are coated with butter.
2nd Step
Spread evenly on the bottom of a pan measuring 8 inches by 8 inches, place it in the refrigerator until the filling is ready.
3rd Step
Make sure that the powdered sugar and cream cheese are well blended by using a hand mixer. Blend in the vanilla extract, then gently fold in the whipped topping.
4th Step
On top of the crust that had been refrigerated, spread the filling. Filling for a cherry pie goes on top.
5th Step
Before serving, chill for at least an hour, or until the mixture has set.