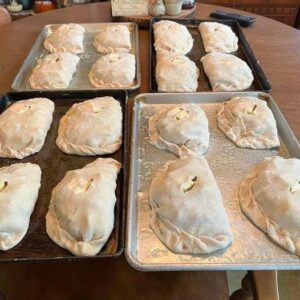 Ingredients:
Dough:
3 cups all-purpose flour.
Half a cup of chilled unsalted butter.
One tsp salt.
2 egg yolks.
1/2 cup cold water.
Filling:
One lb. beef (ground or shredded roast).
One lb. diced Yukon Gold potatoes.
Two diced carrots.
One diced small onion.
Two tbsp Worcestershire Sauce.
Two minced garlic cloves.
Half tsp dried rosemary.
Half tsp dried thyme.
Salt and pepper.
Instructions:
Step 1
Dough: Mix flour and salt, then blend in chilled, grated butter. Add egg yolks and water, form dough, and chill for 30 minutes.
Step 2
Filling: Brown beef, add veggies, garlic, herbs, Worcestershire Sauce, salt, and pepper.
Step 3
Assembly: Roll dough into circles, fill one side, fold over, and seal.
Step 4
Bake at 400°F (200°C) for 35-40 minutes or partially for freezing.
Step 5
Reheat if frozen: Brush with egg wash and bake an extra 20 minutes.
Tips:
– Ensure the dough is well-chilled for flaky pastries.
– Roll dough into uniform circles for consistent pasty sizes.
– Adjust seasonings to your taste.
Variations:
– Replace beef with mushrooms or plant-based alternatives.
– Add your favorite cheese to the filling.
– Make smaller pastries with breakfast ingredients.
Enjoy your classic Cornish Beef Pasties!