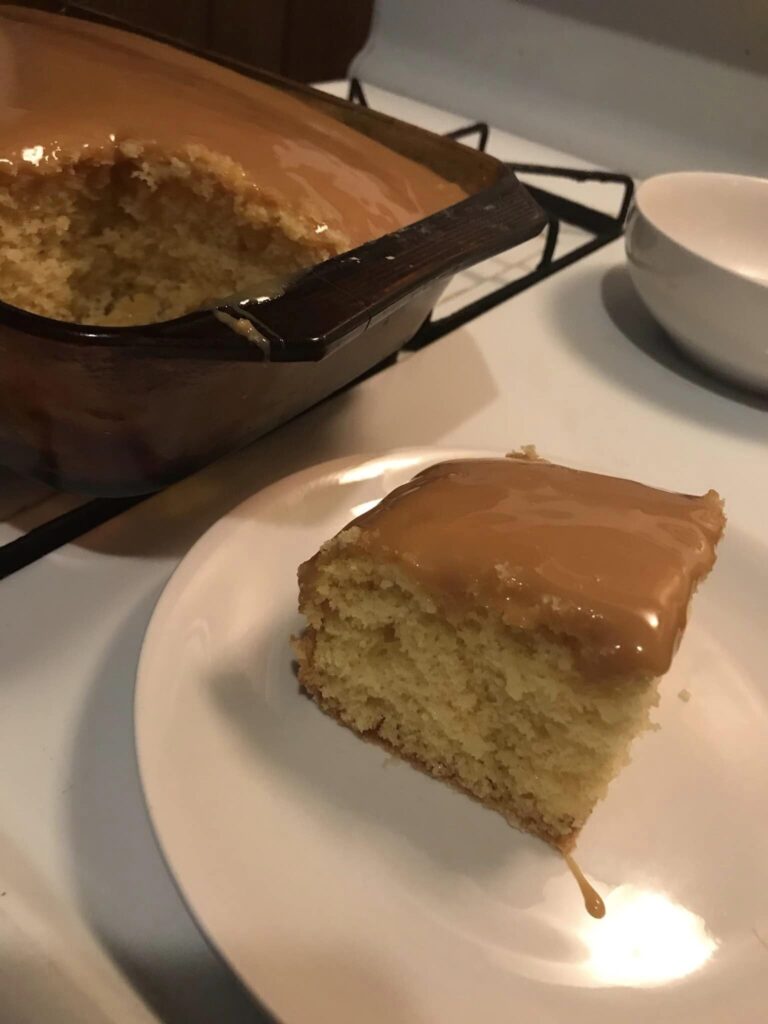 HOW TO MAKE  SOUTHERN CARAMEL CAKE
This traditional caramel cake is similar in texture to that of a pound cake. It has a buttery flavor and a thick texture, but it is still able to hold its own against the luscious caramel frosting without being overpowering. This recipe is a fantastic place to begin if you've ever been curious about how to create caramel cake. You will be well on your way to making a Southern caramel cake that will steal the show with only a few simple ingredients and a couple of nice pans. If you give our recipe for Southern caramel cake a try the next time you're hosting a holiday or other special occasion, people will call you a hostess superhero.
When making a layer cake, one of the most common errors that people do is not giving sufficient time for the cake to cool before applying the frosting. This is the most important step in the process. Even a little amount of residual heat will allow that wonderful frosting to slip right off, transforming your masterpiece into an unmitigated catastrophe in a matter of moments. As a caution, we recommend allowing the cake to cool for an hour and ten minutes.
INGREDIENTS YOU'LL NEED :
1 Cup.Of softened sour cream.
¼ Cup.Of whole-fat milk.
1 Cup.Of butter; softened to room temp.
2 Cups.Of white granulated sugar.
4 large eggs; lightly beaten.
2 ¾ Cups.Of all-purpose flour.
2 Tsp.Of baking powder.
½ Tsp.Of salt.
1 Tsp.Of vanilla extract.
1 Tsp.Of rum extract.
Caramel Frosting
PREPARATION:
1st Step
Before you start the preparation, you need to bring the temperature in the oven up to 350 degrees. Mix the sour cream and milk together. Set aside.
2nd Step
Using medium speed on an electric mixer, cream the butter until it reaches the desired consistency.
3rd Step
While continuing to beat, gradually add the sugar. Incorporate the eggs one at a time, mixing the mixture well after each addition.
4th Step
Mix together the flour, baking powder, and salt. Add the flour combination, starting and finishing with the flour mixture, to the butter mixture in alternating fashions with the sour cream mixture.
5th Step
After each addition, beat at a medium-low speed until the mixture is well incorporated. Mix in the extracts of vanilla bean and rum. Pour batter into two greased and floured round cake pans about 9 inches in diameter.
6th Step
Bake at a temperature of 350 degrees Fahrenheit for 30 to 35 minutes, or until a wooden pick inserted in the middle comes out clean.
7th Step
Ten minutes should be spent allowing the pans to cool on wire racks. Remove the baked goods from the pans and place them on wire racks. Allow to cool for one hour, or until they are fully cold.
8th Step
Spread the caramel frosting on top of the cake, in between the layers, and around the edges.