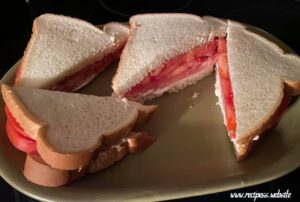 HOW TO MAKE A TOMATO SANDWICH?
An all-time childhood favorite, the classic tomato sandwich never goes out of style. Two fresh pieces of your favorite bread (toasted if you want), covered in mayonnaise, topped with thickly sliced tomatoes, salt and pepper to taste, and a squeeze of lemon juice Perfection.
Anytime I see the first truly excellent tomatoes at a farmers market or in my own garden — the ones that smell delicious even before they are picked — I purchase the largest ones I can locate and freeze them for later use. Then, on the way home, I stop at a grocery to pick up something special that I've been saving for just this occasion: squishy white bread. And, if I don't have it on hand, I make a point of picking up a jar of Duke's mayonnaise while I'm out shopping.
This is how the tomato sandwich is seen by people in the South. There are just five ingredients in this tribute to the season's most beautiful fruit, and we don't want anything else taking our focus away from the object of our love. (Salt and pepper are optional.) You may certainly top your tomato sandwich with cheese, basil, bacon, ricotta, and avocado – all of which are delicious, but they are not what a Classic tomato sandwich should be.
FOR THIS CLASSIC SANDWICH, YOU ONLY NEED FIVE SIMPLE INGREDIENTS:
White bread slices.
Large tomatoes.
Mayonnaise, to taste.
Table salt sprinkle.
Fresh Cracked pepper
AND IT'S THE EASIEST SANDWICH TO MAKE, EVEN YOUR 5 YEARS CHILDREN CAN MAKE IT, JUST FOLLOW THE STEPS BELOW:
Step 1:
To cut the tomato, I used a serrated knife and I cut them into 1/2-inch slices.
Step 2:
The second thing I did, was spreading a large spoon of mayonnaise on one side of each bread piece.
Step 3:
And I placed a tomato slice on the mayonnaise side of four bread pieces and spread with mayonnaise.
Step 4:
After that, I seasoned on the top with a sprinkle of table salt and a pinch of fresh cracked pepper on each serving.
Step 5:
And I covered with the mayo-side of the remaining four bread pieces to complete the sandwich.
Step 6:
If preferred, you can cut each sandwich in half but you need to serve it immediately after cutting.
These are the basic steps to make a classic sandwich but don't hesitate to try your special version of it, it's so versatile, you can add what you have, and what you want, crumbled bacon, onion slices, herbs … etc. I HOPE THAT YOU'LL ENJOY IT TOO!!