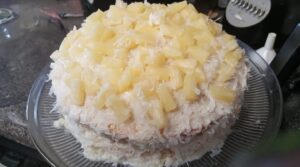 HOW TO MAKE COCONUT AND PINEAPPLE CAKE
The combination of pineapple and coconut is one of my favorites, and in today's Pineapple Coconut Cake, we're going to combine layers of moist pineapple cake with a dense pineapple filling and top it all off with a coconut cream cheese frosting. This cake is a little piece of paradise, and it is PERFECT for celebrations in the spring and summer!
I am very excited that we now have a recipe for pineapple cake to share with everyone since we have been wanting to add one to our collection for quite some time! The pineapple taste in today's cake layers is achieved by using both crushed pineapple bits and pineapple juice in the batter. These two ingredients combine to create a distinctive pineapple flavor.
We didn't use any pineapple essence in today's pineapple cake, so it may not taste exactly like pineapple. On the other hand, you are free to do so if you so want! The delightful pineapple taste of the cake comes from both the crushed pineapple and the pineapple juice that is included in the recipe. I wouldn't say that the cake layers on their own have a strong pineapple taste, but the flavor is undeniably there and cannot be missed.
This cake is loaded with pineapple flavor and the addition of coconut in the recipe gives it the ideal amount of contrast and harmony. (The coconut cream cheese frosting is so delicious that if I could have gotten away with eating the whole bowl, I would have done so!) I really cannot wait for you to give it a go! Even though this Pineapple Coconut Cake is ideal for outdoor events in the spring and summer, we are really going to be eating it for Christmas this year!
HERE IS THIS LIST OF ALL INGREDIENTS NEEDED:
THE CAKE INGREDIENTS;
350 grams.Of cake flour.
1 Tbsp.Of baking powder.
½ Tsp.Of salt.
6 egg whites.
230 grams.Of crushed pineapple with juice.
⅔ Cup.Of milk.
1 Tsp.Of vanilla extract.
¼ Cup.Of vegetable oil.
400 grams.Of white sugar.
2 sticks.Of unsalted butter; slightly softened.
THE PINEAPPLE FILLING INGREDIENTS:
A 550 grams can.Of crushed pineapple.
100 grams.Of granulated sugar.
2 Tbsp.Of cornstarch.
AND THIS IS WHAT I USED TO MAKE THE COCONUT CREAM CHEESE FROSTING:
2 sticks.Of unsalted softened butter.
400 grams.Of full-fat cream cheese.
1 ½ Tsp.Of coconut extract.
1 Tsp.Of vanilla extract.
700 grams.Of powdered sugar.
A pinch.Of salt.
DIRECTIONS:
THE CAKE LAYERS PREPARATION:
Step 1
Prepare three 8-inch round pans by greasing and flouring them and lining their bottoms with circles cut from waxed or parchment paper. Preheat the oven to 350 degrees. Fruitcakes have a sticky propensity because of the fruit.
Step 2
Whisk the flour, baking powder, and salt together in a medium bowl for at least 30 seconds to combine the ingredients. And Put the egg whites, crushed pineapple, pineapple juice, milk, vanilla, and vegetable oil into a separate bowl. Combine by blending with a fork.
Step 3
Put the butter in the bowl of your mixer and beat it on medium speed until it's nice and creamy. Beat for about 5 minutes, or longer if using a manual mixer, until the mixture is light in color and frothy.
Step 4
Start with the dry ingredients and work your way through the wet ones, finishing with the dry ones. Blend ingredients together by beating on low to medium speed. Do not overmix or mix at a faster speed than medium.
Step 5
Put in the oven for 20-25 minutes at 350 degrees and start checking at 18 minutes. When a toothpick inserted into the center comes out clean or with only a few crumbs attached, the cake is ready. After 5 minutes on a cooling rack, the cakes may be turned out.
TO MAKE THE PINEAPPLE FILLING; FOLLOW THESE STEPS:
Step 1
Put all of the ingredients into a saucepan, then start the cooking process over medium heat. Constantly whisk the mixture for about 1 to 2 minutes after it starts to boil until it begins to thicken.
Step 2
Always remember that the consistency will become thicker as it cools. So before using, let the mixture thoroughly chill in the refrigerator.
THE CREAM CHEESE FROSTING PREPARATION:
Step 1
Mix the butter in a bowl until it's completely smooth. Once the butter has been beaten and is smooth, add the cream cheese that has been chopped into tiny to medium-sized pieces.
Step 2
Combine the coconut and vanilla extracts and add them. Beat in the powdered sugar gradually. Avoid beating too quickly or for too long. The frosting may be beaten to a smoother consistency. You may put it in the fridge for a bit if it becomes too soft to pipe.
Step 3
Get some good use out of the frosting while it's still cold. If it softens too much, put it in the fridge for a while to firm up, or in the freezer for about 5 minutes, and then it will be a perfect consistency again for piping.
AND THIS IS HOW TO ASSEMBLE YOUR CAKE:
Step 1
The first cake layer should be placed on the cake board or pedestal. Then,