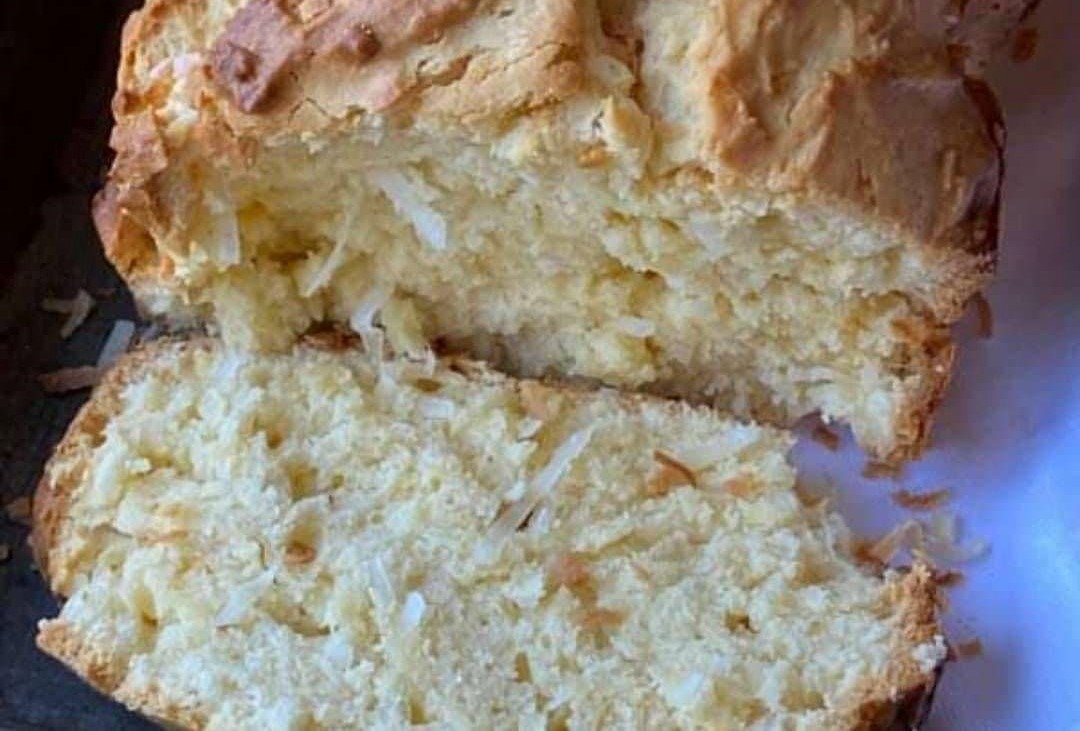 HOW TO MAKE COCONUT CREAM CHEESE POUND CAKE
This Coconut Cream Cheese Pound Cake is one of our all-time favorites, and it's ridiculously simple to put together. This pound cake is baked in a loaf pan, making it the ideal dessert for serving a small group of guests. Perfect for a brunch get-together and pairs well with coffee. This cake is prepared using cream cheese and eggs, which will cause it to be moist and thick due to the combination of those two ingredients. Pound cakes are a kind of dense cake. If you are a fan of coconut, you shouldn't hesitate to give this cake a go.
This Coconut Cream Cheese Pound Cake is a fantastically rich and thick pound cake that keeps its flavor for days even after being baked. Lots of delicious coconut flavor! This cake is sweet, but not in an excessive way, just as a good pound cake should be. And there is certainly no need for a glaze. Already, there is an abundant supply of taste and sweetness. If you want to give it a little more flair, all you have to do is dust it with a little powdered sugar. The taste of coconut is achieved by using both shredded coconut and coconut extract.
It would go well as a sweet treat, a light snack, or even for breakfast over a cup of coffee. The top develops a deliciously crisp crust. My absolute favorite portion of a pound cake is the center.
THE INGREDIENTS LIST:
2 sticks.Of softened unsalted butter.
8-oz.Of softened cream cheese.
3 Cups.Of granulated sugar.
6 large beaten eggs; preferably at room temp.
3 Cups.Of all-purpose flour.
1/2 Tsp.Of salt.
1/4 Tsp.Of baking soda.
1 1/2 Cups.Of sweetened shredded coconut.
1 Tsp.Of vanilla extract.
1 Tsp.Of coconut extract.
PREPARATION:
1st Step
Turn the oven temperature up to 325 degrees. And flour a Bundt pan or tube pan with a capacity of 12 cups and spray it with baking spray.
2nd Step
To thoroughly combine the butter and cream cheese, beat them together for two minutes with the paddle attachment of an electric stand mixer.
3rd Step
While the mixer is on medium speed, slowly add the sugar while continuing to beat for between 5 and 7 minutes.
4th Step
When adding the eggs, do it one at a time and continue beating until no trace of yellow appears.
5th Step
Mix the flour, baking soda, and salt together, then add it to the butter mixture while continuing to beat it at LOW speed just until it is combined.
6th Step
At this point, mix in some shredded coconut, some vanilla essence, and some coconut extract as well.
7th Step
Bake the cake for 1 hour and 30 minutes, or until a toothpick made of wood put in the middle comes out clean, after transferring the mixture to the pan that has been prepared.
8th Step
After allowing the dish to cool for ten minutes in the pan, remove the food from the dish.