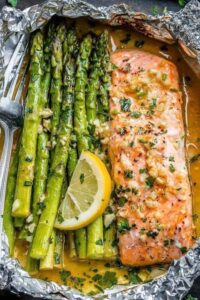 Ingredients:
Two lemons, thinly sliced.
One salmon fillet.
Salt, to taste.
Freshly ground black pepper, to taste.
6 tbsp melted butter.
Two tbsp honey.
3 cloves of garlic, minced.
One cup of fresh thyme leaves, chopped.
One tsp dried oregano.
Freshly chopped parsley for garnish.
Directions:
Step 1
First, preheat your oven to 350 degrees Fahrenheit, line a baking tray with aluminum foil, and generously spray it with cooking spray.
Step 2
Then, arrange the lemon slices evenly in the center of the foil.
Step 3
After that, season both sides of the salmon with salt and pepper, then position it on top of the lemon slices.
Step 4
In this step, in a bowl, combine the melted butter, honey, minced garlic, oregano, and thyme, then pour this mixture over the salmon, and then carefully wrap the foil around the salmon to enclose it.
Step 5
Next, bake the salmon in the preheated oven for approximately 25 minutes or until it is fully cooked through. Then, turn the oven to the broil setting and roast for an additional 2 minutes or until the butter mixture has set.
Step 6
Finally, before serving, garnish the dish with freshly chopped parsley.
Short tips:
– Choose fresh, high-quality salmon for the best taste.
– Season both sides of the salmon well with salt and pepper.
– Cook until the salmon flakes easily and reaches the desired temperature.
Variations:
– -Try oranges or limes instead of lemons for a different twist.
– Use olive oil, rosemary, and basil, and add olives and tomatoes.
– Add red pepper flakes or a sriracha-honey glaze for some heat.
Enjoy it!!!