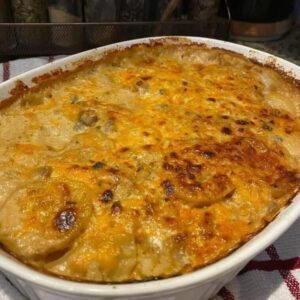 HOW TO MAKE COPYCAT CHRIS POTATO RUTH OR GRATIN
This Copycat Recipe for Chris Steakhouse Potatoes Au Gratin is one of those recipes that my family begs for again and over again. It has a delectable flavor and is seasoned with the ideal quantity of garlic and cream.
When it comes to potato recipes, this Ruth's Chris Steakhouse Potatoes Au Gratin Copycat Recipe is hands down the best there is!! It is always a delectable snack to look forward to. I have spent a lot of time there, and not a single dish that I've ordered has ever left me feeling let down. One of their specialty meals is potatoes prepared in the au gratin technique. They go well with any recipe that has beef or fowl. Even though they are really decadent, we usually only prepare them when we have guests coming over or when the holidays roll around. If such is the case, we increase the recipe by a factor of two or three.
It is possible to make the Chris Steakhouse Potatoes Au Gratin Copycat Recipe in the morning, store it in the refrigerator, and then bake it in the oven when it is time to cook supper later on. Recipes that can be prepared in advance are some of my favorites. If you are creating a few different items, getting some of them done in advance is almost always going to be a tremendous assistance. It is certain to end up being one of the potato recipes that everyone in your family enjoys the most!
THE INGREDIENTS LIST:
4 russet potatoes; medium-sized.
1/2 Cup.Of whole milk.
1 Cup.Of heavy cream.
1 1/2 Tsp.Of all-purpose flour.
A large minced garlic clove.
1/4 Tsp.Of salt.
1/4 Tsp.Of black pepper
1 Tbsp.Of softened butter.
1 1/2 Cups.Of cheddar cheese.
PREPARATION:
1st Step
First, cut the potatoes into slices that are 14 of an inch thick, and then quarter each piece. The cream, milk, flour, garlic, salt, and pepper are mixed together by hand and beaten until they are well incorporated.
2nd Step
Spread butter that has been melted all over the inside of a big baking dish. Place one-fourth of the potatoes in the bottom of the dish, and then pour a portion of the cream mixture over them. Perform this process of stacking a total of three more times.
3rd Step
Cover the potatoes and bake them in an oven that has been set to 400 degrees for twenty minutes. Remove the lid and continue baking the potatoes for another 40 minutes, or until they begin to brown on top.
4th Step
On top of the potatoes, sprinkle some grated cheese and continue baking for another 5 to 10 minutes, or until the cheese has melted and become a golden brown color, and the potatoes have reached the desired tenderness.