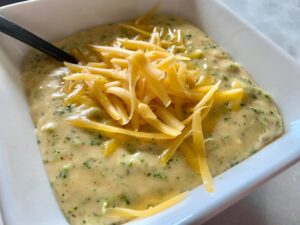 HOW TO MAKE COPYCAT PANERA BROCCOLI CHEESE SOUP
In less than thirty minutes, you can have this copycat of Panera's Broccoli Cheese Soup on the table. The ideal bowl of comfort food that doesn't even need you to leave the home!
Making this soup at home is definitely going to take less time than getting everyone into the vehicle and driving to Panera for lunch. Plus, there was the drive back home!
Now, you can prepare the thick and creamy broccoli cheese soup that is a crowd favorite right in your own kitchen. It is incredible how delicious it is! This is my absolute favorite type of food to eat when I need to relax and unwind. It's a cheese soup, but it's not going to make you feel completely awful because it has broccoli and carrots, which, as it turns out, are rather healthy for you.
It is always possible to cook Panera Broccoli Cheese Soup using fresh broccoli, but it is also acceptable if you want to dip it into the freezer and pull out a bag of frozen broccoli florets instead. We've all done it at least once or twice, and the results will taste just as good in this soup!
My recipe for Panera's Broccoli Cheese Soup yields three to four servings. But, if you have a lot of people who are going to eat a lot, and this is going to be the main dish, you may simply double the recipe.
THE INGREDIENTS LIST:
¼ Cup.Of unsalted butter – cubed.
Minced garlic; I used 3 cloves.
A large onion – diced.
2 stalks celery – diced.
¼ Cup.Of all-purpose flour.
2 Cups.Of vegetable broth.
2 Cups.Of milk.
½ Cup.Of heavy cream.
A bag.Of 16-oz broccoli florets.
Large carrot sliced into thin stripes.
2 Cups.Of shredded sharp cheddar cheese.
Kosher salt and freshly ground black pepper.
PREPARATION:
1st Step
To start place a large stockpot or Dutch oven over medium heat and melt the butter there.
2nd Step
After approximately three to four minutes, add the garlic, onion, and celery, and cook them while stirring regularly until the onion and celery become translucent. For approximately a minute, while whisking, get the flour a nice golden color.
3rd Step
Cook for around one to two minutes while continuously whisking the mixture to integrate the vegetable broth, milk, and heavy cream that have been gradually added. Mix in the broccoli and the carrot.
4th Step
Bring to a boil, then decrease the heat to a simmer and cook for approximately 6-8 minutes, or until the broccoli is soft.
5th Step
Use an immersion blender to puree the ingredients until they reach the desired consistency.
6th Step
After stirring in the cheese a handful at a time until the mixture is smooth (approximately one to two minutes), season it to taste with salt and pepper. Serve right away.