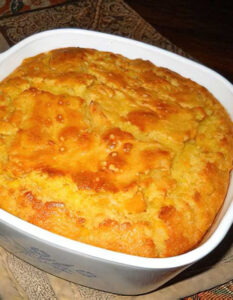 THE INGREDIENTS LIST:
1 (15-oz) Can.Of whole kernel corn, drained.
1 (15-oz) Can.Of cream-style corn.
1 Cup.Of sour cream.
1/2 Cup.Of (1 stick) unsalted butter, melted.
1 Cup.Of cornbread mix (such as Jiffy).
2 large eggs.
1 Cup.Of shredded cheddar cheese.
Salt and freshly ground black pepper, to taste.
Chopped fresh chives or parsley (optional, for garnish).
PREPARATION:
1. Start by setting your oven to 350°F (175°C). Grease a 9×13-inch baking dish or a similar-sized casserole dish.
2. In a large mixing bowl, combine both the drained whole kernel corn and the cream-style corn. Mixing these two varieties adds both texture and sweetness to the casserole.
3. Stir in the sour cream and melted unsalted butter, creating a creamy and rich base for the casserole.
4. Gradually add the cornbread mix to the mixture, ensuring it is well combined. The cornbread mix not only adds flavor but also helps to thicken the casserole.
5. Beat in the two large eggs until the mixture is smooth and uniform. The eggs act as a binding agent, helping to set the casserole as it bakes.
6. Season the mixture with salt and freshly ground black pepper to taste. Then, fold in the shredded cheddar cheese, adding a layer of savory goodness. And pour the corn casserole mixture into the greased baking dish, spreading it out evenly.
7. Place the baking dish in the preheated oven and bake for approximately 45-50 minutes, or until the casserole is set, and the top turns a golden brown.
8. Remove the Corn Casserole from the oven and let it cool slightly before serving. If desired, garnish with chopped fresh chives or parsley for added freshness and presentation.