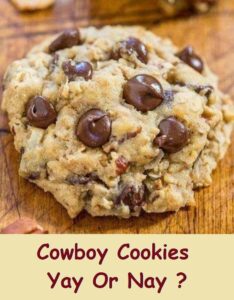 INGREDIENTS YOU'LL NEED:
1 Cup.Of (2 sticks) unsalted butter, softened.
1 Cup.Of granulated sugar.
1 Cup.Of brown sugar, packed.
2 large eggs.
1 Tsp.Of pure vanilla extract.
2 Cups.Of all-purpose flour.
1 Tsp.Of baking powder.
1 Tsp.Of baking soda.
1/2 Tsp.Of salt.
2 Cups.Of old-fashioned rolled oats.
1 Cup.Of semi-sweet chocolate chips.
1 Cup.Of sweetened shredded coconut.
1 Cup.Of chopped pecans (or walnuts).
INSTRUCTIONS:
1st Step
Turn on the oven to 350 °F (175 °C). To avoid sticking, line two baking pans with parchment paper.
2nd Step
It should take around two to three minutes to beat together the softened butter, granulated sugar, and brown sugar in a large mixing bowl until the mixture becomes light and fluffy.
3rd Step
Add the vanilla essence next, then add the eggs one at a time. Mix the ingredients consistently until they are well blended.
4th Step
Mix the all-purpose flour, baking powder, baking soda, and salt together in a basin separate from the rest of the ingredients. In the big mixing bowl, gradually add the dry ingredient combination to the wet components. Don't overmix; just blend well.
5th Step
Incorporate the old-fashioned rolled oats, semi-sweet chocolate chips, sweetened shredded coconut, and chopped pecans (or walnuts) into the mixture in a gentle folding motion. The dough will start to have texture and chunks.
6th Step
Drop rounded portions of dough onto the prepared baking sheets using a cookie scoop or a spoon, spacing them approximately 2 inches apart.
7th Step
Bake for 10 to 12 minutes in a preheated oven, or until the sides are golden brown but the centers are still a little gooey. Don't overbake the cookies since they will continue to solidify as they cool. It is best to leave the cowboy cookies to cool for a few minutes on the baking sheets before moving them to wire racks where they may finish cooling.
8th Step
Grab a drink of milk and indulge in the homey comfort of your handmade cowboy cookies after they have cooled. In your own house, have a flavor of the Old West by sharing them with friends and family.