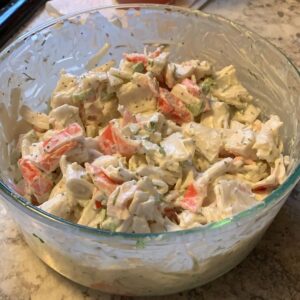 THE INGREDIENTS LIST:
450 grams.Of lump crab meat, picked over for shells.
1 Cup.Of celery, finely chopped.
1/2 Cup.Of red bell pepper, finely chopped.
1/4 Cup.Of green onions, thinly sliced.
1/4 Cup.Of fresh parsley, chopped.
1/2 Cup.Of mayonnaise.
2 Tbsp.Of sour cream.
2 Tbsp.Of lemon juice.
1 Tbsp.Of Dijon mustard.
Salt and freshly ground black pepper, to taste.
Mixed salad greens for serving (optional).
PREPARATION:
1st Step
To start, carefully look over the crab flesh for any leftover shells or cartilage. Take care while handling it so as not to disrupt the lump's structure.
2nd Step
Prepare the celery and red bell pepper by chopping them very finely. The green onions should be sliced very thinly, and the fresh parsley should be chopped. These vibrant veggies will enhance the taste and texture of the salad with their pleasant crunch.
3rd Step
Mix the mayonnaise, sour cream, lemon juice, and Dijon mustard in a bowl until everything is evenly distributed. Mix all of the ingredients with a whisk until they are completely incorporated. Salt and pepper may be added to taste as a seasoning.
4th Step
Mixing the lump crab meat, chopped celery, red bell pepper, green onions, and chopped parsley into the dressing should be done carefully. Take care not to tear the delicate crab flesh when you are handling it.
5th Step
After stirring, cover the bowl and place it in the refrigerator to cool for at least half an hour. This enables the tastes to combine, which results in an improvement to the taste as a whole.
6th Step
There are a few different ways that you may serve. For a more formal presentation, you may either spoon a big scoop of the crab salad over a bed of mixed salad greens, or you can serve it in a bowl for a more informal setting. Both options are available to you.
7th Step
Consider adorning the dish with a dusting of freshly chopped parsley or a drizzle of more lemon juice for an added dimension of flavor and presentation.
8th Step
Serve the Crab Seafood Salad as soon as possible so that your visitors may take full advantage of the delectable mix of the rich dressing and the tender crab flesh.
RECIPE TIPS:
Opt for fresh, high-quality crab meat for the best flavor.
Adjust the seasoning to your preference. Add more lemon juice for a zesty kick or increase the mustard for extra tanginess.