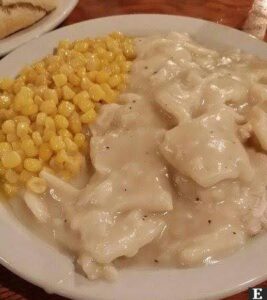 HOW TO MAKE CRACKER BARREL CHICKEN 'N DUMPLINGS
This Cracker Barrel Chicken and Dumplings dish is a huge favorite in our house, and it's simple to prepare at home thanks to the fact that it's a copycat. These curled dumplings are just melting in your mouth!
My grandmother was from the south, and when I tell you that she knew how to cook, all I can say is "mm." Nice stuff. We miss both her and her cuisine so much! Chicken and noodles are one of my all-time favorite Southern dishes, especially the one that includes folded dumplings like the sort that my grandmother used to cook.
We indeed have a recipe for chicken and dumplings that can be made in the slow cooker with no effort (it even calls for biscuits from a can! ), and on evenings when we are pressed for time, we use this recipe quite often. It's the ultimate in cozy foods, and we can't get enough of it! Yet, this recipe for chicken and dumplings is a knockoff of Cracker Barrel and will always hold a special place in my heart. Even though it was made using a recipe from a local restaurant, it had the comforting flavor of homemade food.
THE INGREDIENTS LIST:
A 4-pounds whole chicken.
A large peeled onion.
3 peeled carrots; cut them into large pieces.
3 celery stalks; cut into large pieces.
1 Tsp.Of salt.
1 Tsp.Of cracked pepper.
3 Cups.Of flour.
2 Tsp.Of baking powder.
3/4 Tsp.Of salt.
4 1/2 Tbsp.Of shortening.
1 Cup.Of whole milk.
PREPARATION:
1st Step
In a large stock pot, combine the chicken, onion, carrots, celery, a teaspoon of salt, and a pinch of pepper. Cover the chicken with water, and bring to a boil before reducing to a simmer. Cook for around two to three hours, or until the chicken is very soft and falling off the bones.
2nd Step
Before the chicken has finished cooking, make the dumplings by combining the flour, baking powder, and salt. Use a pastry cutter, two knives, or your fingertips to cut in the shortening. Add the milk slowly, 1/4 cup at a time, until a shaggy dough forms. You may not need a whole cup of milk. Avoid over-mixing the dough.
3rd Step
Spread the dough on a floured board and roll to a thickness of 1/4 inches. Use a pizza cutter to cut in long 1-inch broad strips. Cut the dough into 1-inch squares in the opposite way.
4th Step
Put dumplings on a baking sheet lined with parchment paper to dry for 30 minutes. After the chicken is done cooking (it should be coming off the bone), transfer it to a big dish and, once it is cold enough to handle, take the flesh from the bones and cut it into tiny pieces.
5th Step
Strain the broth from the stockpot into a large bowl through a fine mesh sieve. Throw away the veggies. Return 6 cups of broth to the stockpot and refrigerate or freeze the remainder for future use.
6th Step
Bring the stock to a simmer, then add the dumplings one by one to prevent them from sticking. Cook for six to seven minutes.
7th Step
Return the chicken to the stockpot and stir to incorporate. Continue to cook for twenty minutes. While the dumplings cook, the liquid should thicken. Season to taste with salt and pepper.