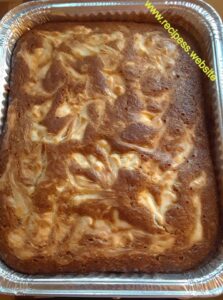 Cream Cheese Swirl Carrot Cake !
Ingredients:
1and 1/2 cups whole wheat flour
1and 1/2 tsp baking powder
1tsp baking soda
1/2 tsp salt
3/4 tsp cinnamon powder
1and 1/2 cups grated carrots
3/4 cup brown sugar
3/4 cup vegetable oil
3 eggs
2 tbsp honey or maple syrup
1 tsp vanilla extract
4 to 6 ounces cream cheese melted
1/2 tsp vanilla
1 tsp sugar
Add all dry ingredients together in a big enough bowl( leave the sugar out ) set aside.
In another bowl add all wet ingredients with the sugar .Then add the dry ingredients mix well then fold in the grated carrot.
Mix cream cheese vanilla and tsp of sugar drop on top and swirl with a tooth pick !!@
Bake in a greased 9 inch spare pan at 350 degrees for 20 to 25 minutes.
(I baked mines 325 degrees in a sheet pan for 35 to 40 minutes it was so moist )
Enjoy.