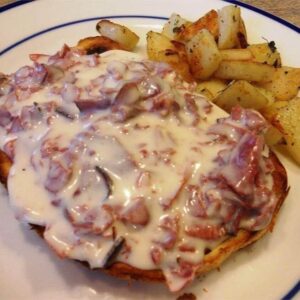 INGREDIENTS:
8-oz.Of dried chipped beef, thinly sliced.
4 Tbsp.Of unsalted butter.
1/4 Cup.Of all-purpose flour.
3 Cups.Of whole milk.
1/2 Tsp.Of freshly ground black pepper.
Toasted bread slices (white or wheat), for serving.
Fresh parsley, chopped (optional, for garnish).
INSTRUCTIONS:
1. To begin, remove some of the extra saltiness from the dry chipped beef slices by washing them under cold running water. After you've rinsed them, you should dry them off with paper towels. After that, slice the beef as thinly as possible into pieces that are suitable for snacking, and put them away.
2. Melt the butter without any added salt in a large pot or skillet set over medium heat. After the butter has melted and begun to foam, gradually add the all-purpose flour while continuing to whisk the mixture to make a smooth paste. Cook the roux for approximately two to three minutes, or until it reaches the desired color of a pale golden.
3. While whisking constantly, slowly add the entire milk while making sure there are no lumps. Cook the mixture while stirring it constantly until it reaches the desired consistency, which should take around 5 to 7 minutes. To bring out more of the taste, season with freshly ground black pepper.
4. Add the chipped beef pieces, which have been thinly sliced, and stir them in so that they are uniformly covered with the creamy sauce. Allow the mixture to continue to boil for an additional two to three minutes to thoroughly heat the meat.
5. While the creamed chipped beef is boiling, toast the pieces of bread in a skillet until they are golden brown and crispy. Place the toasted bread in an attractive pattern on the serving dishes.
6. Place warm, toasted bread pieces on a serving platter. Ladle liberal quantities of creamed chipped beef onto the bread. If you want, you may sprinkle some freshly cut parsley on top as a garnish for some added color and brightness.