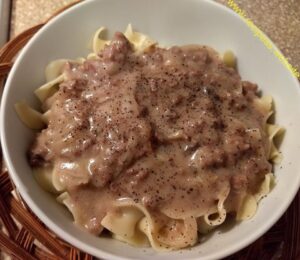 Creamy Beef & Noodles
1 lb. ground beef 93%
1 onion cut in chunks
1 can beef broth
2 cans cream of mushroom
1 package dry onion soup
1 tbsp garlic pepper
3 tbsp flour
1 package egg noodles or any pasta you like.
Cook and drain.Brown beef and onions till onions are tender. Add flour and sautee 2 minutes to take raw flour taste out. Add beef broth, onion soup pack, cream of mushroom and garlic pepper. Simmer till mixed well. Ladle over pasta or rice. Makes enough for 4 large servings.
Enjoy!