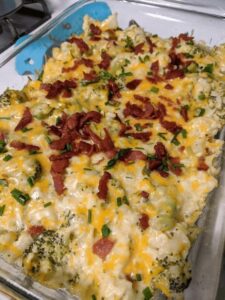 HOW TO MAKE CREAMY CAULIFLOWER CHICKEN CASSEROLE
Are you craving comfort food? You are going to want to make this Creamy Cauliflower Chicken Casserole as soon as possible. Despite adhering to all of the lifestyle guidelines, it manages to be velvety, cheesy, and oh-so-delicious. What's not to adore about it? This Creamy Cauliflower Chicken Casserole will not only be cheesy and delicious, but it will also be the casserole that is the easiest for you to make in your entire life. Because it uses frozen cauliflower rice, there is almost no preparation required; however, if you want to reduce it even further, you can use canned pre-shredded chicken instead. The most difficult aspect of the entire cooking process is simply waiting for it to be done baking.
Throughout my travels, I've discovered that cauliflower is a surprisingly versatile ingredient. It's shocking how many different things it can stand in for when you need it to do something. Before I started counting carbs, I had never thought of cauliflower as anything other than a vegetable that could be served as a side dish. In modern times, I use it as a substitute for rice, mashed potatoes, pizza crust, and a variety of other foods.
This Creamy Cauliflower Chicken Casserole will change your mind about using cauliflower as a low-carb substitute if you are still on the fence about using cauliflower in that capacity. It is a very adaptable vegetable that does not require much effort to season with various spices and incorporate a variety of complementary flavors. In the case of this recipe for a casserole, the cauliflower rice serves as a base in the place of traditional rice while also absorbing the flavor of the chicken and cheese.
Your loved ones are going to be begging for seconds of this mouthwatering Creamy Cauliflower Chicken Casserole that you've prepared for them. Because it is packed with vegetables, you will have peace of mind that you are giving your family a well-balanced meal even though you are juggling a career, a family, and friends at the same time. This casserole dish can be thrown together in a matter of minutes, making it ideal for women who have a lot on their plates.
THE INGREDIENTS LIST:
500 grams.Of Shredded chicken.
6 Cups.Of Frozen cauliflower rice.
1 Cup.Of Cheddar cheese.
½ Cup.Of Mozzarella cheese.
Softened Cream cheese; I used 4-oz.
⅓ Cup.Of Heavy whipping cream.
½ Cup.Of Bone broth.
1 Tsp.Of Garlic powder.
½ Tsp.Of Onion powder.
½ Cup.Of Bacon crumbles.
Salt and pepper to taste.
PREPARATION:
Step 1
The first thing we will start with is turning the oven temperature up to 350F.
Step 2
In a large bowl, dump 6 cups of frozen cauliflower rice. Over medium heat, combine 4 ounces of softened cream cheese and 1/3 cup of heavy whipping cream in a saucepan. Continue stirring until most of the cream cheese has melted.
Step 3
Put in a half cup of mozzarella and a half cup of cheddar, and continue stirring until the cheese has melted and the sauce has thickened. Add the garlic powder, onion powder, and bone broth to a mixing bowl. Complete the mixing.
Step 4
Take the mixture from the stove off the heat and pour it over the cauliflower rice. Stir the items together and season with salt and pepper to taste.
Step 5
Add 500 grams of shredded chicken. Put the ingredients into a casserole. Spread another half a cup of cheddar cheese on top, then sprinkle with half a cup of bacon crumbles.
Step 6
Place the casserole dish in the oven and bake it for 20 to 25 minutes, or until the cauliflower is completely cooked through and the cheese is melted and bubbling. Enjoy!