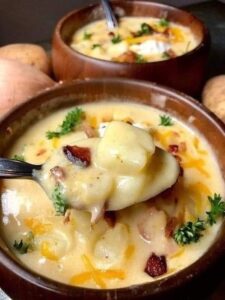 THE INGREDIENTS LIST:
4 large potatoes, peeled and diced.
1 medium finely chopped onion.
2 garlic cloves, minced.
4 Cups.Of chicken or vegetable broth.
1 Cup.Of whole milk.
1/2 Cup.Of heavy cream.
2 Tbsp.Of butter.
2 Tbsp.Of all-purpose flour.
Salt and pepper to taste.
Chopped chives or green onions for garnish (optional).
PREPARATION:
1st Step
Prepare the potatoes by peeling and dicing them into bite-sized pieces. Remove any remaining starch from them by rinsing them under ice water.
2nd Step
Melt the butter in a large saucepan over low heat. After adding the chopped onions to the pan, continue to cook them for approximately three to four minutes, or until they turn translucent. After stirring in the minced garlic, continue cooking for one more minute, or until the aroma is released. The diced potatoes should be added to the saucepan, and they should be stirred to ensure that they are coated with the butter and aromatics.
3rd Step
Pour in the chicken or vegetable broth and make sure the potatoes are completely covered by the liquid before setting the saucepan aside. Bring the mixture to a boil over medium heat, then lower the temperature to maintain a simmer. Cook the potatoes, covered, for around fifteen to twenty minutes, or until they are soft.
4th Step
Use a standard blender, or an immersion blender, or transfer the soup to the blender in stages and puree it until it is silky smooth and creamy. Be careful since heated substances have the potential to splash.
5th Step
In a separate small saucepan, melt the remaining butter over low heat. Create a roux by gradually whisking in the flour using a whisk. Cook for one to two minutes while stirring the mixture regularly to break up any lumps that may develop.
6th Step
Pour the milk and heavy cream in a slow stream while whisking constantly to mix the ingredients. Give the mixture a few minutes to thicken up before proceeding.
7th Step
Add the roux mixture in stages to the potato soup that has been pureed, being sure to whisk it thoroughly after each addition. This will result in the soup having a creamy consistency.
8th Step
Add a little salt and pepper to taste before serving the soup. Please let it boil for a further five to ten minutes so that the flavors may combine.
9th Step
Place a serving of the cheesy potato soup in each bowl, and if you want, sprinkle the top with some chopped chives or green onions. A dinner that would warm your heart should be served hot with fresh bread.