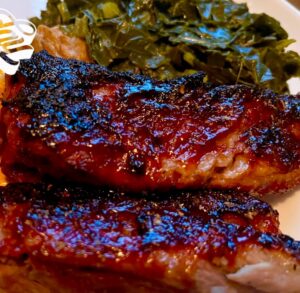 HOW TO MAKE CROCKPOT BARBECUE RIBS
Ribs cooked in a crock pot always turn up soft enough to be eaten right off the bone. Find out how to make the greatest slow cooker ribs, including detailed directions for preparing the meat, applying a flavorful dry rub to it, and bringing it to a level of perfection that is comparable to that of a restaurant.
You want your ribs to be so delicate that they almost fall off the bone. The crockpot is an excellent option. However, in order to get wonderfully caramelized ribs that fall off the bone, how do you get away from the hideous mess that the slow cooker produces?
If you simply toss ribs and barbecue sauce into a slow cooker and let them simmer for eight hours, you will end up with some ribs that fall off the bone, but they will have an unpleasant flavor and won't be very palatable. The barbecue sauce will not have caramelized at all, and the juices from the meat will have resulted in a barbecue sauce liquid that is very thin and watery.
We feel that using a crockpot is the simplest way to cook ribs, therefore that is the approach that I always use, particularly when I am preparing food for a large number of people. If you use my simple secret method and a slow cooker, you can make some very delicious ribs.
THE INGREDIENTS LIST:
Baby back ribs or pork spare ribs; I used 2.
2 Cups.Of barbecue sauce.
THE DRY RUB SPICES:
1 Tbsp.Of smoked paprika.
1 Tsp.Of salt.
1 Tsp.Of black pepper.
1 Tsp.Of onion powder.
1 Tsp.Of garlic powder.
1 Tsp.Of ground mustard.
PREPARATION:
Step 1:
Remove the membrane from the ribs' back. Simply glide your fingertips over the edge to loosen it, then tear it off.
Step 2:
In a small dish, thoroughly combine the dry rub ingredients. Use this mixture to liberally cover the outside of the ribs.
Step 3:
Place your ribs in a slow cooker. Spread 1 1/2 cups of barbecue sauce over the meat, saving 1/2 cup for later.
Step 4:
Slow-cook for eight to ten hours. The longer the cooking time will be, the more racks are in the pot.
Step 5:
Remove the racks carefully and place them on a baking sheet coated with aluminum foil. Add the barbecue sauce that was set aside.
Step 6:
Set an oven broiler to high and broil for three to five minutes, or until the barbecue sauce begins to boil and caramelize.
Step 7:
Alternatively, you may cover them in aluminum foil and place them on a hot grill to get the same result.