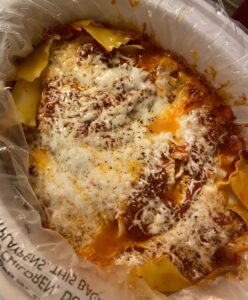 HOW TO MAKE CROCKPOT LASAGNA
Crockpot lasagna is juicier, cheesier, and meatier than traditional lasagna, and it tastes just as excellent as traditional lasagna, but it's much simpler to make! There is no need to pre-cook the noodles; just add them to their raw state, and the slow cooker will get them to the ideal tenderness level. There is also a make-ahead version of this lasagna that can be constructed a day in advance for dinners that are easy to prepare.
With the rise in popularity of instant pots and air fryers, slow cookers have fallen a bit out of favor, but let's not forget why we love them in the first place: you can set it and forget it till dinner time, so it's ready when you are.
Making lasagna in a slow cooker is one of my go-to options for a delicious Sunday meal. You can put it together a day ahead of time and refrigerate it; the next morning, turn it on before you leave for church, and it will be ready when you get back home. Things work out well for us since we like taking it easy on Sunday mornings, and it's wonderful to know that I already have a plan for lunch in place.
Everyone in my family is a huge fan of this delicious lasagna casserole that I made in a crockpot one Sunday afternoon and brought to my parents' place for our regular Sunday afternoon family supper. Everyone in my family enjoyed it.
INGREDIENTS NEEDED:
FOR THE MEATY SAUCE, YOU'LL NEED:
1 Pound.Of ground beef.
A small onion – finely diced.
2 garlic cloves – crushed.
1/4 Cup.Of red wine or beef broth.
32-ounces.Of marinara sauce.
1/4 Tsp.Of dried thyme.
1/2 Tsp.Of sea salt.
1/4 Tsp.Of black pepper.
1/2 Tsp.Of granulated sugar.
4 Tbsp.Of fresh chopped parsley.
FOR THE CHEESE SAUCE, I USED:
Reduced fat ricotta cheese; I used 15-ounces.
16-ounces.Of low-fat cottage cheese.
A large beaten egg.
1 Pound.Of shredded mozzarella cheese.
FOR ASSEMBLING YOUR LASAGNA:
9 uncooked lasagna noodles.
1/2 Cup.Of water.
TO MAKE THIS CROCKPOT LASAGNA, FOLLOW THESE STEPS:
Step 1:
Mix the ground beef and onion together in a big pan that is deep and set it over medium heat. Cook the beef until it is no longer pink, breaking it up with a spatula as it cooks.
Step 2:
Sauté the garlic for one to two minutes after adding it. Add a quarter cup of red wine and boil until almost all of the liquid has evaporated (5 min).
Step 3:
Mix in three cups of marinara sauce, thyme, sugar, salt, and pepper, along with chopped parsley. After thoroughly mixing, cover and boil for five minutes.
Step 4:
Prepare the cheese sauce as follows: In a medium bowl, combine: ricotta, cottage cheese, 1 big egg, mozzarella cheese, and chopped parsley. Combine thoroughly.
Step 5:
Prepare an oiled slow cooker that holds 6 quarts. On the bottom, spread one cup of marinara sauce, and then layer three noodles, splitting them up as necessary to fit.
Step 6:
Repeat the process until you have three layers of noodles, topping each one with one-third of the meat sauce, one-third of a cup, three-quarters of a cup of mozzarella cheese, and one-half of the ricotta cheese mixture, respectively.
Step 7:
Place the remaining meat sauce, three-quarters of a cup of mozzarella, and half a cup of water on top of the third layer of lasagna noodles. Allow some of the water to seep down the side of the dish into the lasagna.
Step 8:
Cover and simmer on LOW for three and a half to four hours. After that, sprinkle the saved mozzarella on top, cover it, and continue cooking for ten minutes or until the cheese melts. Allow the lasagna to rest for 15 minutes so that it is simpler to serve.