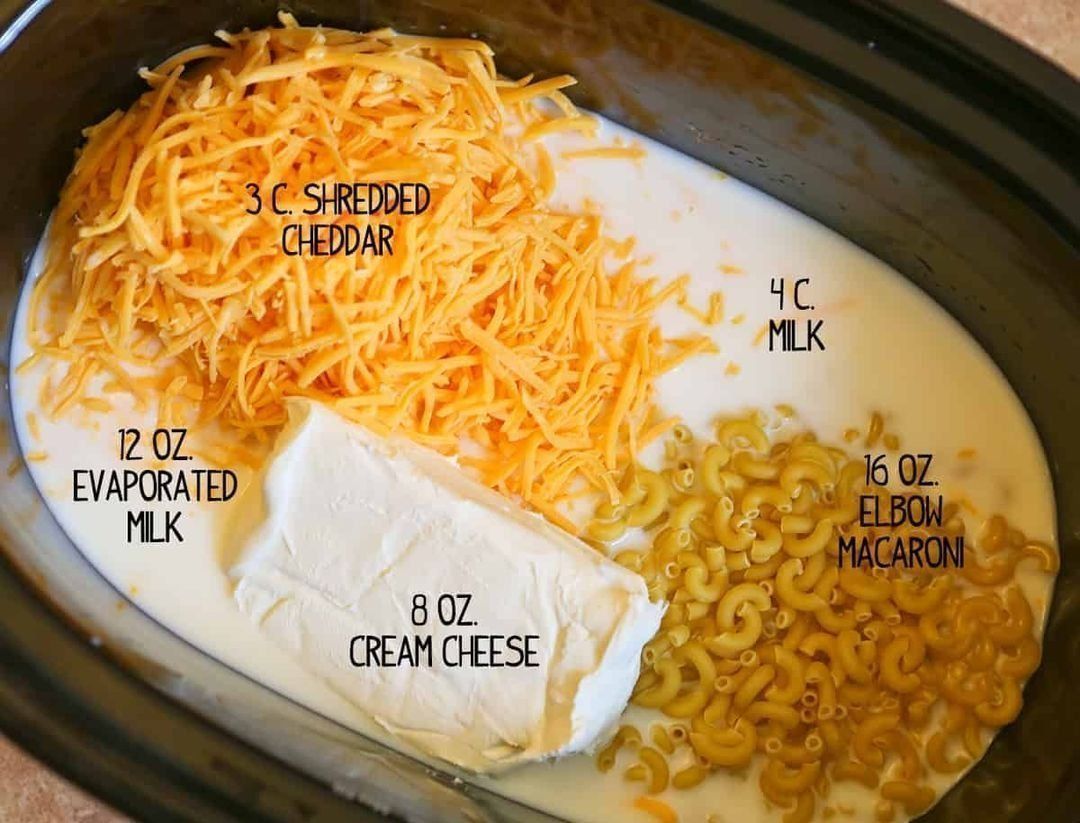 THE INGREDIENTS LIST:
– 500 grams.Of elbow macaroni.
– 4 cups.Of milk,
– 4 00 grams.Of shredded cheddar cheese.
– 100 grams.Of shredded mozzarella cheese.
– 120 grams.Of unsalted butter, melted.
– 60 grams.Of all-purpose flour.
– 1 Tsp.Of salt.
– 1/2 Tsp.Of black pepper.
– 1/2 Tsp.Of garlic powder.
– 1/2 Tsp.Of onion powder
– 1/4 Tsp.Of paprika.
PREPARATION:
1st Step
Prepare the elbow macaroni as directed on the packet. Pasta will continue to cook in the crockpot, so it's best to cook it just shy of al dente. Macaroni is cooked and ready to be drained and put aside.
2nd Step
To make a paste, combine the melted butter and flour in a separate basin and whisk until smooth. The cheese sauce will start with this blend.
3rd Step
Slowly stir the butter-flour slurry into the milk in the slow cooker. Make sure everything is mixed together smoothly and there are no clumps.
4th Step
Add the cooked macaroni, shredded cheddar cheese, shredded mozzarella cheese, salt, black pepper, garlic powder, onion powder, and paprika to the crockpot. Combine the cheese sauce and macaroni by stirring until the pasta is uniformly covered.
5th Step
Cover the crockpot and place it on low heat. Mac 'n' cheese has to simmer for at least two hours, and stirring every so often will keep the cheese from burning to the pan.
6th Step
After the first cooking time, test the mac and cheese to see whether it's the right consistency. You may thin it out by adding additional milk and stirring it in if it becomes too thick. Leave the lid off and continue cooking for another 15-30 minutes if the consistency is too thin.
7th Step
When the macaroni and cheese have achieved the right consistency, give it one more toss and a taste to check for salt and pepper. If necessary, season with more salt and pepper.
8th Step
If you plan on serving the mac and cheese right away, keep it warm in the crockpot. Turn off the slow cooker and cover the dish to keep it warm until you're ready to serve it.
9th Step
Crockpot mac & cheese may be served as a main meal or a side dish with other foods. To boost the taste and texture, you may top it with chopped fresh herbs, breadcrumbs, or more shredded cheese.