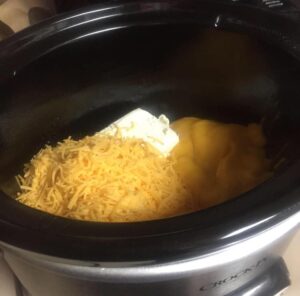 HOW TO MAKE CROCKPOT MAC AND CHEESE
Crockpot Mac and Cheese is a comforting dish that is prepared with substantial macaroni and more than a pound of three different kinds of cheese. It is one of the most indulgent and comforting of all comfort food side dishes due to its richness and satisfaction.
This is without a doubt the simplest possible way to cook macaroni and cheese. And you won't believe it, but the texture is amazingly creamy, there are no chunks of broken curdled sauce, and the flavor is just right.
Instead of using regular milk, one of my secrets to making delicious macaroni and cheese in the slow cooker is to use a mixture of cream, water, and evaporated milk. This prevents the dish from becoming lumpy. The addition of the cheese should also be delayed until closer to the conclusion of the cooking process so that it does not get overheated and separated.
And another important tip is to use a mix of cheeses to make the dish taste and feel great. The taste of classic macaroni and cheese is enhanced by the use of sharp cheddar, white American cheese, and Monterey Jack cheese are responsible for the creation of a silky sauce. The fact that everything is cooked in a single pot (or, more technically, an insert for a slow cooker) also contributes to the creation of a smooth sauce due to the starches that are generated throughout the cooking process.
The whole family loves this dish! Because it has a taste that is well-balanced and not too harsh, people of all ages like eating it, and the convenience with which it can be prepared is something that the chef will appreciate. It's festive enough for the holidays, but easy enough for a weekday side dish, with savory goodness packed into every mouthful.
THE INGREDIENTS NEEDED:
Dry macaroni pasta; I used 500 grams.
1 to 2 Cups.Of hot water.
4 Tbsp.Of butter; cut it into small cubes.
Evaporated milk; I used 300 ml.
1/2 Cup.Of heavy cream.
1/4 Tsp.Of onion powder.
1/4 Tsp.Of garlic powder.
Salt and black pepper.
Shredded sharp cheddar cheese; use 300 grams.
Shredded American cheese; I used 1 cup.
Shredded Monterey Jack cheese; I used 1 cup.
PREPARATION:
1st Step
Spray a slow cooker that is between 5 and 6 quarts with non-stick cooking spray. In a large bowl, combine the macaroni pasta, butter, water, evaporated milk, heavy cream, onion powder, garlic powder, and salt to taste. Mix well.
2nd Step
After stirring, make sure the pasta is level and completely submerged in the liquid. Cook the macaroni, covered, over low heat for about an hour and a half, or until it is tender about two-thirds of the way through.
3rd Step
Remove the cover as fast as possible and add the three types of cheese: cheddar, American, and Monterey Jack. Give it a short stir, and then cover it up again.
4th Step
Continue cooking, covered, for an additional 15 to 30 minutes, or until the pasta is soft and the cheese has melted.
5th Step
Stir well and when necessary, thin with a few drops of boiling water. If you like pepper, you may season it to taste with it.