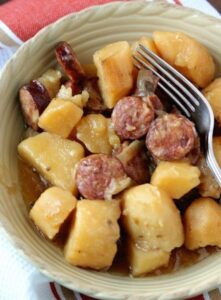 Ingredients:
1.5 lbs. of smoked beef sausage, sliced.
One large onion, sliced.
2.5 lbs. peeled and chopped medium russet potatoes.
1 10-ounce can of cream of mushroom soup.
¾ tsp of creole seasoning.
Instructions:
Step 1
If you're not using a slow cooker liner, generously spray the inside of your crockpot with cooking spray (this will help prevent the ingredients from sticking to the pot and make cleanup easier).
Step 2
Combine all of the ingredients in the crockpot (this includes the sliced smoked beef sausage, sliced onion, chopped potatoes, cream of mushroom soup, and creole seasoning), then stir.
Step 3
Set your crockpot to cook on low heat for 7 to 8 hours (the cooking on low heat for an extended period allows the flavors to meld, and the ingredients to become tender).
Step 4
If you want an easier cleanup process, consider using a slow cooker liner. These can typically be found near plastic storage bags in your local grocery store. Using a liner can save you from having to scrub the crockpot after your meal is done.
Step 5
After 7 to 8 hours in the crockpot, savor a tasty, low-effort Crockpot Sausage and potatoes meal with rich flavors from creamy mushroom soup and creole seasoning, and enjoy it!
Quick Tips:
– Choose high-quality sausage for better flavor.
– Cut the potatoes into consistent slices to ensure they cook evenly.
– Add veggies, herbs, or cheese for a twist.
Variations:
– Top with cheese before serving.
– Use plant-based sausage and dairy-free options.
– Experiment with different seasonings.
– Serve over rice, pasta, or with your favorite sides.
Have a nice day!