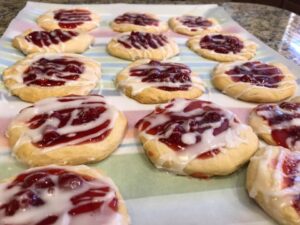 HOW TO MAKE DANISH CHEESE EASY CREAM
This quick and simple cream cheese danish begins with crescent roll dough that has been bought, and the whole recipe may be prepared in less than thirty minutes, from beginning to end.
As soon as your family gets a whiff of this Easy Cream Cheese Danish when you're making them, you'll have a crowd gathered in the kitchen, and they won't go until the delicacies are cool enough for them to chow down on. So simple, right!? Easy (Like, Actually Extremely easy)? A simple dessert made from crescent roll dough purchased from a shop. Flaky and buttery pastry dough isn't exactly the simplest or the quickest recipe is known to man, but neither am I one to promote the use of store-bought pastry dough either. If you're anything like me and you're searching for a fast and simple dessert, then crescent roll dough purchased from the supermarket is the way to go.
Also, after you try them, you won't care whether they're true cream cheese danishes or not; you won't feel the need to rush into a bakery and purchase one. You won't feel the urge to run into a bakery and buy one. The fact that they are good, outstanding, excellent, lovely, impressive, incredible, extremely good, and unbelievable is all that should be found important at this point.
THE INGREDIENTS LIST:
Crescent rolls; I used 2 cans for 8 servings.
Softened cream cheese at room temp; you'll need an 8-oz Pkg.
2 large sp.Of granulated sugar.
1 small sp.Of lemon juice
¾ small sp.Of vanilla extract.
1 small sp.Of sour cream.
Optional; any pie filling you prefer ( cherry, lemon, strawberry… etc)
FOR THE ICING, I ONLY USE:
Sifted confectioner's sugar; I used 1 cup.
1 large sp.Of milk.
1 large sp.Of softened butter.
PREPARATION:
1st Step
Unroll the crescent rolls and cut the dough into two equal rectangles, using the two triangles as guides. To make one continuous sheet of dough, pinch the slice along the diagonal to seal it and sprinkle it lightly with sugar.
2nd Step
Cut the crescent roll dough into pieces measuring 1 inch by 8 inches. And then carefully pull the dough slice and twist the opposite ends in opposite directions to form a rope.
3rd Step
Form a sloppy circle or spiral with the rope by winding it around itself in a spiraling motion. Place the danishes on a cookie sheet that has been lined with baking paper, leaving approximately 2 inches of space between each one.
4th Step
You may make a well for the filling by pressing the centers with your finger to create a well, and you can extend the sides a little bit if you need to.
5th Step
Combine the cream cheese, sugar, lemon juice, vanilla essence, and sour cream in a large bowl and stir until smooth. Each roll should have one tablespoon of filling added to it.
6th Step
After brushing the dough with melted butter in a light layer, place it in an oven that has been prepared for 12 to 15 minutes, or just until the meat is just beginning to brown.
7th Step
Combine the confectioner's sugar, milk, and butter in a small bowl and mix until smooth. You may either use a spoon to drizzle it over the tops of the danishes, or you can put it in a tiny zip-top bag and snip off one of the corners to make a convenient "piping bag."
8th Step
After removing the danish from the oven, let them cool for ten to fifteen minutes before applying the frosting.
9th Step
Tada! Cream cheese danish without leaving the home or breaking a sweat. Enjoy!