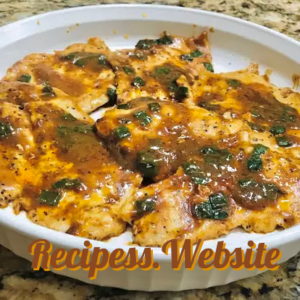 DEEP-FRIED CHICKEN BREASTS SMOTHERED IN ONION GRAVY
This recipe for smothered chicken is a simple one-pot supper that is created with chicken breasts that are breaded, pan-fried, and then covered in a rich and creamy onion sauce. You only need one pot to prepare this meal.
When I make this recipe for smothered chicken breasts, I prefer to serve it over mashed potatoes, which I then drizzle with any remaining gravy. So wonderful!!! This chicken meal may also be served with a side salad or any other sides that go well with chicken. You have complete control over the caloric and nutritional value of this smothered chicken breast dish by choosing the sides that accompany it.
THE FOLLOWING IS A LIST OF ALL OF THE INGREDIENTS THAT ARE REQUIRED IN ORDER TO PREPARE IT:
Boneless chicken breast; I used 4 medium-sized.
65 grams.Of regular flour.
1 Tbsp.Of poultry seasoning.
Black pepper, and salt, depending on your taste.
2 Tbsp.Of olive oil
3 Tbsp.Of butter, divided
A large diced onion.
3 cloves garlic – sliced.
½ Cup.Of chicken broth.
¼ Cup.Of heavy cream.
FOLLOW THESE STEPS TO MAKE THE BEST CHICKEN BREASTS YOU'LL EVER TRY:
Step 1 – To a large plate or shallow basin, add the flour followed by the poultry seasoning, salt, and pepper. Coat the chicken breasts in the flour mixture, making sure to get both sides, and then shake off any excess flour.
Step 2 – Put the olive oil as well as tbsp of the butter in a skillet over medium heat. When the oil and butter are hot, add the chicken that has been coated in flour.
Step 3 – Cook the chicken breasts for a maximum of 8 minutes on BOTH sides, or until a thermometer inserted into one of the breasts registers 165 degrees Fahrenheit. Place the chicken on a fresh platter and put it to the side.
Step 4 – Add the remaining tbsp of butter to the skillet that you are using. Just after the butter has melted, add the onions and continue to simmer for another 4-5 minutes, stirring often.
Step 5 – If the pan starts to become too dry, add a tbsp of chicken stock and stir it in. This will keep the food from burning. After adding the garlic, continue to simmer for another minute or two.
Step 6 – Combine the leftover chicken stock with the heavy cream in a separate bowl. Bring the mixture to a boil while continuously stirring the pot. As soon as it reaches a boil, turn the heat down to a low setting. Place the chicken back into the pan, add the gravy, and reduce the heat to low for three to four minutes.
Step 7 – To serve, bring the chicken to a warm temperature and cover it with the onion gravy. ENJOY IT!!!