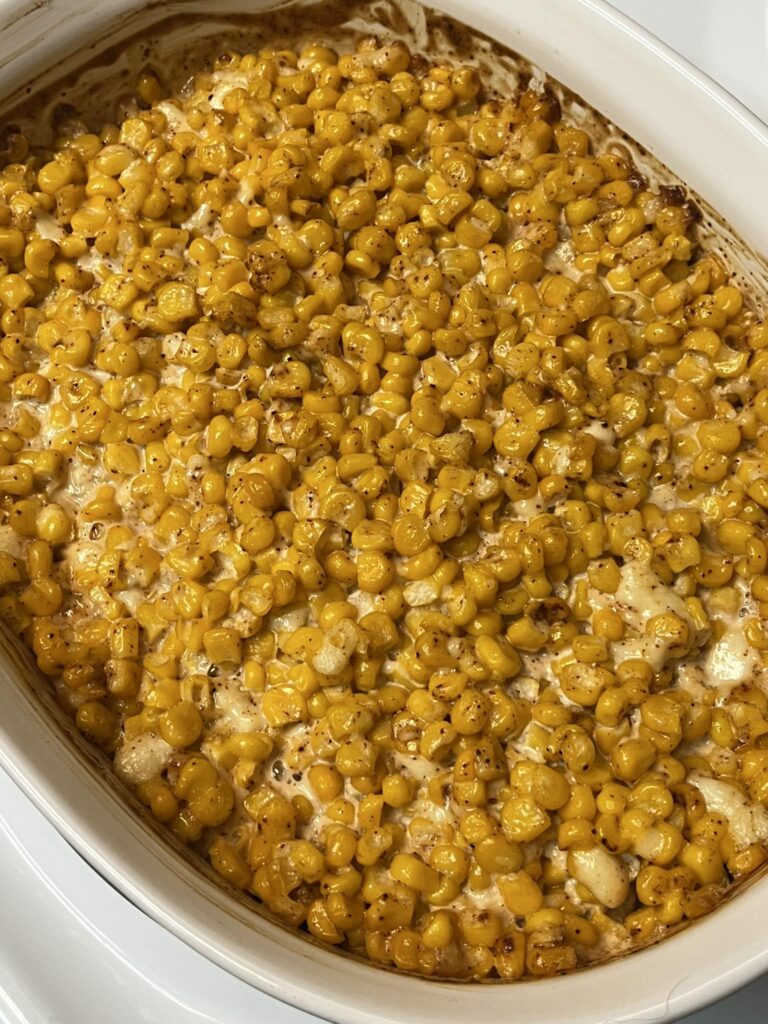 THE INGREDIENTS LIST:
6 Cups.Of of frozen or fresh corn kernels (about 4-5 ears of corn).
1/2 Cup.Of mayonnaise.
1/2 Cup.Of sour cream.
1/4 Cup.Of melted butter.
1 Tsp.Of chili powder.
1/2 Tsp.Of cayenne pepper (adjust to your spice preference).
2 cloves garlic, minced.
1 Cup.Of crumbled cotija cheese (or feta cheese as a substitute)
1 Cup.Of shredded Monterey Jack or cheddar cheese.
1/4 Cup.Of chopped fresh cilantro.
Juice of a small lime.
Salt and black pepper to taste.
Additional cotija cheese, cilantro, and lime wedges for garnish (optional).
INSTRUCTIONS:
1st Step
Using cooking spray or butter, oil a 9×13-inch baking dish and preheat your oven to 350°F (175°C).
2nd Step
When using fresh corn, cut the kernels off the cob after grilling or roasting the ears until they have a good sear. Simply defrost frozen corn if you're using it. Separate the corn.
3rd Step
Mix the mayonnaise, sour cream, melted butter, garlic powder, cayenne pepper, lime juice, salt, and black pepper in a mixing bowl. Stir well to combine all the ingredients.
4th Step
Fold the corn kernels, cotija cheese crumbles, and shredded Monterey Jack or cheddar cheese together gently in a large mixing dish. If desired, save some cotija cheese for garnish.
5th Step
Over the corn and cheese mixture, pour the creamy sauce mixture. Everything should be combined well so that the sauce coats the corn completely.
6th Step
Spread out the corn mixture evenly in the baking dish after transferring it there. Bake the casserole for 25 to 30 minutes, or until it is hot and bubbling and the top is beginning to turn brown, in the preheated oven.
7th Step
When the dish comes out of the oven, top it with more cotija cheese crumbles and chopped fresh cilantro for flavor and color. Lime wedges may also be provided to be squeezed over each plate.
8th Step
The best way to eat Mexican Street Corn Casserole is hot. It's a tasty side dish that goes great with tacos, grilled meats, or just on its own as a comfort food treat.