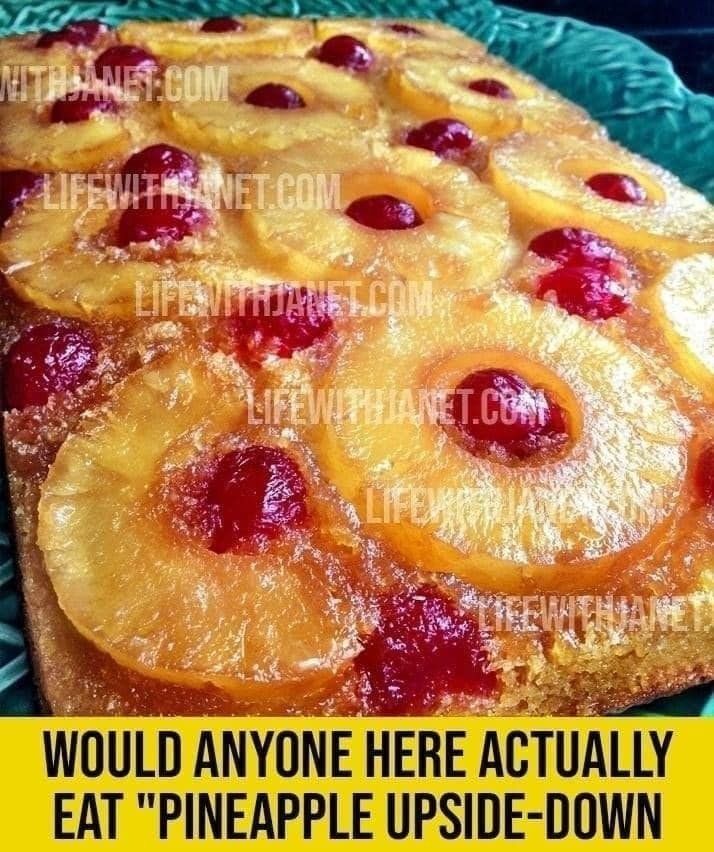 HOW TO MAKE DELECTABLE PINEAPPLE UPSIDE-DOWN CAKE
A traditional dessert, Pineapple Upside-Down Cake never fails to wow and amaze guests with its stunning appearance and delectable assortment of flavors. This moist and decadent cake features caramelized pineapple rings, luscious maraschino cherries, and a tender cake base. It is a great pleasure for the sense of sight as well as the sense of taste. In this recipe, we will walk you through the simple steps necessary to make your very own Pineapple Upside-Down Cake right in the comfort of your own home.
With each lovely slice of this Pineapple Upside-Down Cake, savor the beautiful mix of pineapple that has been caramelized, the moist cake, and the richness that comes from the brown sugar glaze. This time-honored dish is guaranteed to be a favorite at any event, whether it be an important celebration or just a get-together with the family. Indulge in the pleasure of handmade deliciousness with the people you care about most while enjoying this classic sweet.
THE INGREDIENTS LIST:
– 1/4 Cup.Of unsalted butter.
– 1 Cup.Of packed brown sugar.
– 1 Can.Of pineapple rings, drained.
– Maraschino cherries, as desired.
– 1 1/2 Cups.Of all-purpose flour.
– 1 1/2 Tsp.Of baking powder.
– 1/4 Tsp.Of salt.
– 1/2 Cup.Of unsalted butter, softened.
– 1 Cup.Of granulated sugar.
– 2 large beaten eggs.
– 1 Tsp.Of vanilla extract.
– 1/2 Cup.Of pineapple juice.
PREPARATION:
1st Step:
Make sure your oven is preheated to 350F (175C) and that you have a 9-inch round cake pan ready.
2nd Step:
Over low heat, melt one-fourth of a cup of butter that has not been salted in a small pot. Put in the brown sugar, and blend it together well. Evenly distribute this batter onto the bottom of the prepared cake pan.
3rd Step:
Put the brown sugar mixture into a cake pan and arrange the pineapple rings on top. If you choose, you may add a maraschino cherry to the center of each pineapple slice.
4th Step:
Mix the baking powder, salt, and all-purpose flour together in a medium basin using a whisk. Put aside for the time being.
5th Step:
In a separate large bowl, mix together the softened unsalted butter and granulated sugar until light and fluffy. Then add the eggs one at a time and well mixed in between each addition. Add the vanilla essence and mix well.
6th Step:
Stir the dry ingredients into the wet, alternating with the pineapple juice. Always start and finish with the flour mixture, and always whisk until just incorporated after adding a new ingredient. Take care to avoid over-blending.
7th Step:
Spread the cake batter evenly over the pineapple rings in the pan. To test doneness, stick a toothpick into the middle and remove it cleanly after 40 to 45 minutes in a preheated oven.
8th Step:
After 5 minutes, take the cake out of the oven and allow it cool in the pan. Then, set a serving plate over the pan and flip the whole thing upside down to turn the cake out. Lift the pan carefully to expose the pineapple topping.
9th Step:
Cool the cake thoroughly before cutting it. Add some vanilla ice cream or whipped cream on top if you want.