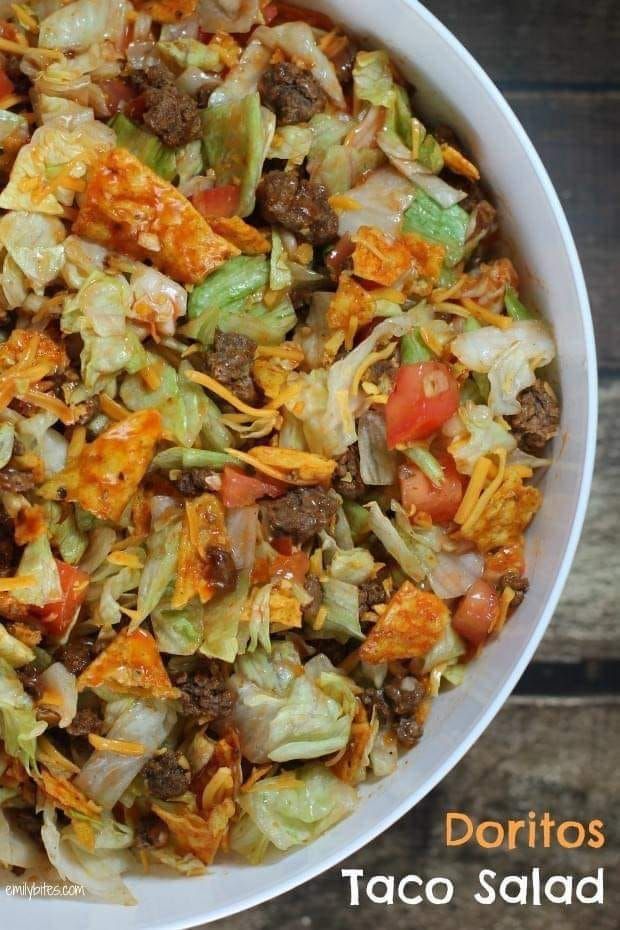 INGREDIENTS NEEDED:
– 1 Lb.Of ground beef.
– 1 packet.Of taco seasoning.
– 1 head of iceberg lettuce, shredded.
– 1 Cup.Of cherry tomatoes, halved.
– 1 Cup.Of canned corn kernels, drained.
– 1 Cup.Of canned black beans, drained and rinsed.
– 1 Cup.Of shredded cheddar cheese.
– 1 Cup.Of crushed Doritos (Nacho Cheese flavor).
– ½ Cup.Of sliced black olives.
– ½ Cup.Of diced red onion.
– ½ Cup.Of diced bell peppers (any color).
– ½ Cup.Of diced avocado.
– ½ Cup.Of sour cream.
– ½ Cup.Of salsa.
– Fresh cilantro, chopped (for garnish).
– Lime wedges (for serving).
PREPARATION:
Step 1
Cook the ground beef: In a large skillet over medium heat, brown the ground beef until fully cooked. Drain any excess grease, then add the taco seasoning and follow the package instructions for mixing. Remove from heat and set aside.
Step 2
Prepare the salad base: In a large serving bowl, layer the shredded iceberg lettuce as the base. This will serve as the foundation for the taco salad.
Step 3
Build the layers:
On top of the lettuce, add the seasoned ground beef, cherry tomatoes, canned corn kernels, canned black beans, shredded cheddar cheese, crushed Doritos, sliced black olives, diced red onion, diced bell peppers, diced avocado. Arrange the ingredients evenly to create a visually appealing salad.
Step 4.
Dress the salad: In a small bowl, mix together the sour cream and salsa to create a creamy dressing. Drizzle the dressing over the salad, distributing it evenly.
Step 5.
Garnish and serve: Sprinkle fresh chopped cilantro over the salad for a burst of flavor and color. Serve the Dorito Taco Salad immediately, accompanied by lime wedges for squeezing over the salad just before eating.
Step 6.
Mixing option: If you prefer a more mixed salad, you can toss all the ingredients together in a large bowl before serving. However, be aware that the Doritos may lose their crunch if they sit in the dressing for too long.
Step 7.
Enjoy: Serve this vibrant and flavorful Dorito Taco Salad as a main course or as a side dish. The combination of textures, from the crisp lettuce and Doritos to the creamy dressing and zesty ground beef, will make every bite a delight.
Note:
Feel free to customize the salad by adding or substituting ingredients to suit your taste preferences. You can incorporate additional toppings like sliced jalapeños, diced tomatoes, or even a dollop of guacamole for extra flavor.