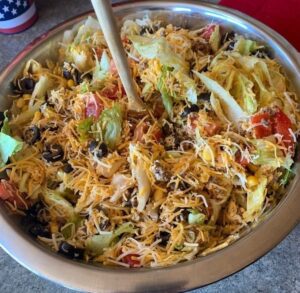 FOR THE SALAD:
1 Pound.Of ground beef or turkey.
1 packet.Of taco seasoning mix.
A chopped head of iceberg lettuce.
1 Cup.Of cherry tomatoes, halved.
1 Cup.Of shredded cheddar cheese.
1 Cup.Of black beans, drained and rinsed.
1 Cup.Of corn kernels (canned or frozen).
1/2 red onion, thinly sliced.
1/2 Cup.Of sliced black olives.
1/2 Cup.Of chopped fresh cilantro.
2 Cup.Of Doritos, crushed.
FOR THE DRESSING:
1/2 Cup.Of sour cream.
1/4 Cup.Of mayonnaise.
1/4 Cup.Of salsa.
1 Tbsp.Of lime juice.
1 Tsp.Of cumin.
Salt and pepper to taste.
PREPARATION:
1st Step
Cook the ground beef or turkey in a large pan over medium heat until it is browned all the way through and cooked completely. If there is too much fat, drain it off.
2nd Step
After adding the taco seasoning mix, be sure to follow the directions on the container for seasoning. Put to the side to cool off.
3rd Step
Mix together in a low-volume bowl the sour cream, mayonnaise, salsa, lime juice, cumin, and seasonings of your choice. Continue to stir until everything is well mixed. Put to the side.
4th Step
Mix the chopped lettuce, cherry tomatoes, shredded cheese, black beans, corn, red onion, black olives, and cilantro together in a large mixing bowl. Add the ingredients in the order listed.
5th Step
Mix the cooled ground beef that has been seasoned with the salad mixture. Combine everything by gently tossing it. After pouring the dressing over the salad mixture, toss it well so that all of the components are uniformly covered.
6th Step
To prevent the Doritos from losing their crunchiness, wait until just before serving to mix in the smashed chips. Place the Dorito Taco Salad on a serving platter, and if desired, garnish with extra Doritos and cilantro. Immediately serve after cooking.