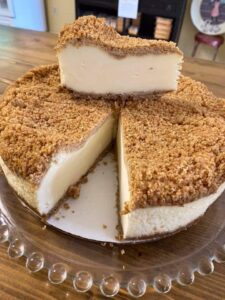 HOW TO MAKE DOUBLE-CRUST CHEESECAKE
The biscuit on top of a cheesecake is the greatest part, much as the crumble topping is the tastiest part of a crumble. Nevertheless, everyone also knows that the only way to really enjoy the biscuit foundation is to have something acidic and creamy alongside it; otherwise, it would simply be a biscuit. This is something that everyone knows. It would be just as strange if crumble didn't have that tangy fruit under-bite to balance the sweetness of the buttery biscuits.
The filling is a straightforward combination of Philadelphia cream cheese, mascarpone, and some lemon zest for brightness and vibrancy. You are free to use any fruit you choose, as long as it is in season and looks appetizing, then fold it into the cream filling. Peaches and raspberries are my favorite fruits! You can use a tumble of excess fresh fruit to adorn it (since the top is just a smooth layer of biscuits), or you can keep it simple and plain so that people are even more pleasantly surprised when they discover how great it is.
INGREDIENTS NEEDED:
FOR MAKING THE CRUMB:
380 grams.Of biscuits; crushed into crumbs.
160 grams.Of butter – melted.
A pinch.Of salt.
FOR MAKING THE FILLING:
250 grams.Of Philadelphia cream cheese.
400 grams.Of mascarpone.
2 large lemons; I used zest and juice.
100 grams.Of confectioner's sugar.
150 grams.Of the fruit of your choice.
PREPARATION:
1st Step:
To start, turn on the oven and set the temperature to 160 degrees Celsius (320 degrees Fahrenheit/Gas 2).
2nd Step:
Crush the biscuits in a food processor or by hand, and place the crumbs in a basin; this may be done to produce the crumb. Combine the crumbled biscuits with the melted butter and salt.
3rd Step:
Prepare a 9-by-23-inch springform cake pan by greasing and lining it. To construct a compact, even foundation, press half of the crumb mixture into it using the back of a spoon or the bottom of a glass tumbler.
4th Step:
Bake for 10 to 15 minutes after transferring to the oven (this initial baking ensures the crust stays crisp and biscuity rather than soggy once it has the cream mixture on top). Put aside to cool down to room temp.
5th Step:
At this point, you need to mix the cream cheese with mascarpone, lemon zest, and icing sugar together in a bowl to make the filling.
6th Step:
Get your preferred fruit ready; If you are going to use peaches, you should cut them up into slices or pieces and macerate them with lemon juice. If you are going to use berries, you can just mix them with lemon juice.
7th Step:
Gently whisk the prepped fruit into the cream mixture and distribute it evenly over the chilled crumb base. And pour the remaining crumb base on top and spread it out with the back of a spoon.
8th Step:
Bake the cheesecake in the oven for 12 to 15 minutes, or until the crust has darkened somewhat. Take it out of the oven and let it cool to room temperature before putting it in the fridge to chill.
9th Step:
You may serve it plain or with additional fruit, whichever you prefer. You can make this ahead of time and store it in the fridge for a few days; it makes a delicious breakfast.