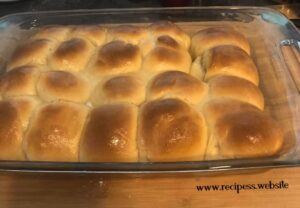 You want to prepare an easy and quick recipe for a family dinner, this recipe is for you, you need just simply to follow the instructions and you too can make this easy BIG FAT YEAST ROLLS.
INGREDIENTS :
1 PKG active dry yeast.
1/2 cup of softened butter.
3 cups of white flour.
1/2 cup of granulated sugar.
1 large beaten egg.
1 cup of warm water.
2/3 tbsp of salt.
HOW I MADE IT?
STEP 1:
I preheated oven at 350 degrees F.
STEP 2 :
In mixing bowl, I put sugar, salt, butter, and 1 beaten egg, and I added water and beat until the butter well blended.
STEP 3:
I covered the batter with plastic wrap and let it rise for 30 minutes.
STEP 4:
I shaped into 12 rolls, brushed tops of rolls with butter, and baked it in a greasing baking pan for 25 minutes.
ENJOY.