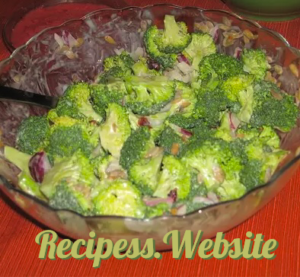 EASY BROCCOLI SALAD
All of your hopes and expectations for the perfect summer get-together may be fulfilled with this super cold, crunchy broccoli salad that is topped with crispy bacon, sliced red onion, and chewy raisins, and then mixed in a creamy homemade dressing.
Broccoli salad is a classic example of a cool, comforting salad, and it is just waiting for you to bring it to the next summer gathering you attend. Even though it is covered in a (wonderful) mayonnaise-based dressing (what summer salad isn't? ), it is prepared with broccoli rather than macaroni or potatoes, which means that you can go ahead and fill those paper plates full with this bacon-y, onion-y simple broccoli salad.
THESE ARE THE INGREDIENTS REQUIRED TO MAKE THE SALAD:
2 Pounds.Of broccoli florets.
1 Pound.Of cooked bacon – minced.
1/2 Cup.Of minced red onions.
1/2 Cup.Of sunflower seeds.
1 Cup.Of raisins; you can use what you have golden or brown.
FOR MAKING THE DRESSING, YOU'LL NEED THE FOLLOWING:
1 1/2 Cups.Of mayonnaise.
1/3 Cup.Of brown sugar.
3 large spoons.of lemon juice.
3 large spoons.Of apple cider vinegar.
1/2 small spoon.Of salt.
PREPARATION:
First Step – In a medium mixing bowl, mix together the mayonnaise with sugar, lemon juice, apple cider vinegar, and seasonings salt. Mix well with a whisk until you have an incorporated mixture.
Second Step – Combine the broccoli florets with bacon, red onions, sunflower seeds, and raisins in a large bowl. Toss with the dressing that you have just made.
Third Step – It is possible to serve it right away, but it tastes much better after being refrigerated for at least an hour.
ENJOY IT!!!