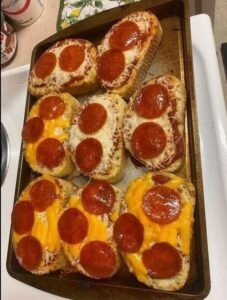 THE INGREDIENTS LIST:
A large Italian bread loaf or baguette.
4 Tbsp.Of unsalted butter, softened.
4 garlic cloves – minced.
1 Cup.Of tomato sauce.
1 1/2 Cups.Of shredded mozzarella cheese.
Your choice of pizza toppings.
Salt and black pepper to taste.
Fresh basil leaves for garnish (optional).
PREPARATION:
1 – Set the oven's temperature to 400°F (200°C) and cover a baking sheet with parchment paper.
2 – Cut the baguette or Italian bread in half lengthwise. Place both pieces on the prepared baking sheet, and cut side up.
3 – Combine the softened butter and minced garlic in a small bowl. To make a garlic butter spread, thoroughly combine. Over the sliced sides of the bread, evenly distribute the garlic butter mixture.
4 – Put the prepared bread in the preheated oven and bake for 8 to 10 minutes, or until the bread is crisp and the edges are golden brown.
5 – Take the bread out of the oven and equally sprinkle each half with tomato sauce. Then liberally top the tomato sauce with the shredded mozzarella cheese.
6 – Place your preferred pizza toppings on top of the cheese and, if you'd like, season with a little salt and black pepper. Back in the oven, bake the prepared garlic bread pizzas for an additional 8 to 10 minutes, or until the cheese is melted and bubbling.
7 – Take the dish out of the oven, then let it cool somewhat before cutting. For a splash of color and extra freshness, you might optionally garnish with fresh basil leaves.
These Easy Garlic Bread Pizzas are a culinary delight, offering the comforting flavors of garlic bread with the classic appeal of pizza. The crispy, garlic-infused bread serves as the perfect canvas for a symphony of flavors, featuring zesty tomato sauce, gooey cheese, and your favorite toppings. Whether enjoyed as a quick weeknight dinner or served at a casual gathering, this dish is sure to be a hit with family and friends. Indulge in the delightful fusion of garlic bread and pizza, and savor each flavorful bite.