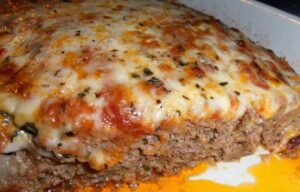 HOW TO MAKE EASY-MADE ITALIAN MEATLOAF – A HEARTY HOMESTYLE FAVORITE
Italian Meatloaf is a comforting classic that brings together the rich flavors of Italy with the familiar warmth of homestyle cooking. This recipe takes the traditional meatloaf and infuses it with aromatic herbs, zesty marinara sauce, and a generous portion of melted mozzarella cheese. It's a dish that evokes feelings of nostalgia and family gatherings, delivering a satisfying and flavorful experience to your table.
Creating Easy Made Italian Meatloaf is a simple yet rewarding culinary endeavor. The combination of ground beef and pork forms a robust base, providing both flavor and juiciness. The addition of breadcrumbs, Parmesan cheese, and Italian seasoning adds a delightful texture and a burst of savory notes. The marinara sauce, both within the loaf and as a luscious glaze on top, elevates the dish with its zesty, tomato-forward essence. As the meatloaf bakes to golden perfection, the melted mozzarella cheese crowns the dish with a creamy, indulgent finish.
THE INGREDIENTS LIST:
FOR THE MEATLOAF:
1 Lb.Of ground beef.
1 Lb.Of ground pork.
1 Cup.Of breadcrumbs.
1/2 Cup.Of grated Parmesan cheese.
1/4 Cup.Of fresh parsley, chopped.
2 cloves garlic, minced.
1 small onion – chopped.
2 large beaten eggs.
1/2 Cup.Of whole milk.
1 Tbsp.Of Italian seasoning.
Salt and black pepper to taste.
FOR THE MARINARA SAUCE AND GLAZE:
1 1/2 Cups.Of marinara sauce (store-bought or homemade).
1/2 Cup.Of mozzarella cheese, shredded.
For Ingredients And Complete Cooking Instructions Please Head On keep on Reading (>)