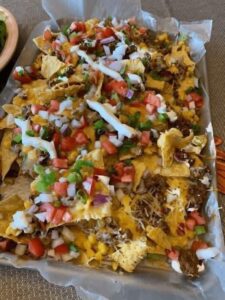 THE INGREDIENTS LIST:
FOR THE PIZZA DOUGH:
1 pre-made pizza dough (store-bought or homemade).
2 Tbsp.Of olive oil
1 Tsp.Of garlic powder.
1 Tsp.Of dried oregano.
FOR THE TACO MEAT:
1 Lb.Of ground beef or ground turkey.
1 small onion, finely chopped.
A (1.25-oz) packet.Of taco seasoning mix.
1/2 Cup.Of water.
FOR THE PIZZA TOPPINGS:
1 and 1/2 Cups.Of shredded cheddar cheese.
1 Cup.Of diced tomatoes.
1/2 Cup.Of sliced black olives.
1/2 Cup.Of sliced green onions.
1/4 Cup.Of sliced jalapeños (optional, for a spicy kick).
1/2 Cup.Of sour cream.
1/2 Cup.Of shredded lettuce
Salsa for drizzling (optional).
INSTRUCTIONS:
1st Step
Set your oven to the appropriate temperature listed on the pizza dough container, which is often 425°F (220°C).
2nd Step
To the required thickness, roll out the pizza dough on a surface that has been gently dusted with flour. You may cut it into a rectangular shape for a fresh take on the classic circular pizza form.
3rd Step
Place the rolled-out pizza dough on a pizza stone or baking sheet. Garlic powder and dried oregano should be sprinkled on the surface after olive oil has been applied. The crust gets a flavorful boost from this.
4th Step
Cook the ground beef or turkey in a pan over medium-high heat until it is browned and crumbles. The chopped onion should be added and cooked until transparent. Taco seasoning mix and water are stirred in, and the mixture is simmered for 5-7 minutes until it thickens.
5th Step
Over the seasoned pizza crust, distribute the cooked taco meat evenly. Over the meat, scatter the cheddar cheese shavings.
6th Step
When the crust is golden and the cheese is bubbling and slightly browned, put the pizza in the preheated oven and bake it for 12 to 15 minutes.
7th Step
If preferred, top the taco pizza with chopped tomatoes, sliced black olives, green onions, and/or jalapenos after removing it from the oven and allowing it to cool somewhat.
8th Step
Cut the taco pizza into slices. Add some shredded lettuce for a crisp contrast and drizzle some sour cream on top. You may also add salsa to the pizza for an additional taste boost. Taco pizza should be served hot so that you can enjoy the wonderful fusion of tastes and textures.