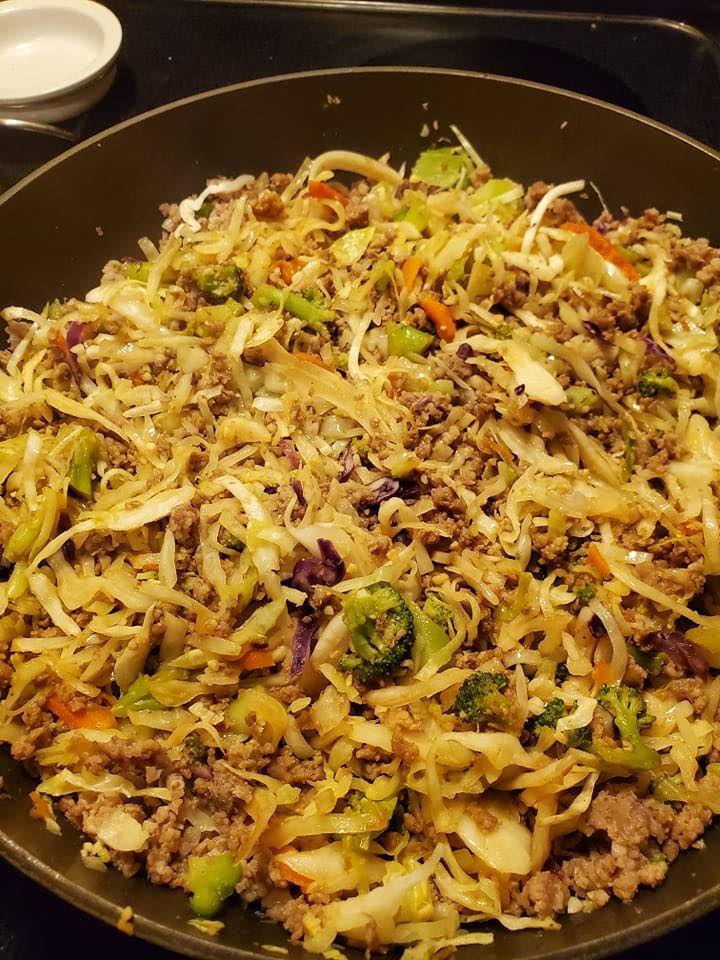 HOW TO MAKE EGG ROLL IN A BOWL
This dish can be prepared in a single pan in under an hour and is high in protein and taste. It is called Egg Roll in a Bowl. This Keto dish has the flavor of an Asian egg roll but does not include the egg roll wrapper. It may be made using ground pig or beef instead of the wrapper.
It's no secret that I and everyone I care about have taken up the Keto diet. Over the last several years, I have become extremely knowledgeable about the Keto diet from my studies and personal experience in the kitchen. It seems like everything in my life is revolving around the keto diet. In point of fact, I made a joking remark that everyone who speaks the word "Keto" in my presence is required to pay one dollar into the swear jar.
This Egg Roll in a Bowl is not only Keto-friendly, but it is also a typical meal that I cook for the family, regardless of whether they follow the Keto diet or not.
THE INGREDIENTS LIST:
1 Pound.Of ground beef/pork.
1 Tsp.Of minced garlic.
Shredded cabbage or coleslaw mix; I used 14-oz.
1/4 Cup.Of low-sodium soy sauce.
1 Tsp.Of ground ginger.
2 Tsp.Of sriracha.
A large egg.
1 Tbsp.Of sesame oil.
2 Tbsp.Of sliced green onions.
PREPARATION:
1st Step
Cook the pork or beef in a large pan over high heat until the meat is no longer pink.
2nd Step
After adding the garlic, continue cooking for another 30 seconds. Sauté the cabbage or coleslaw, the ginger, and the soy sauce until the cabbage is cooked to the desired softness.
3rd Step
If you find that you need more liquid when reducing the coleslaw, you may try adding a little water to the pan.
4th Step
Make a well in the middle of the skillet, then add the egg to the well. Over low heat, scramble the eggs until they are done.
5th Step
Mix in the Sriracha sauce. Drizzle with toasted sesame oil and top with finely chopped green onions. If you want a stronger flavor, use more soy sauce and sriracha.