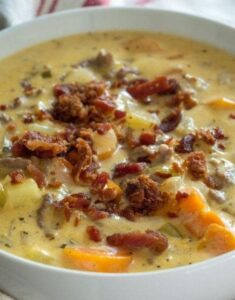 THE INGREDIENTS LIST:
– 1 Pound.Of ground beef.
– 1 medium chopped onion.
– 2 garlic cloves; minced.
– 4 Cups.Of potatoes, peeled and diced.
– 3 Cups.Of chicken broth.
– 2 Cups.Of cheddar cheese, shredded.
– 2 Cups.Of milk.
– 1/2 Cup.Of all-purpose flour.
– 1/4 Cup.Of butter.
– 1/4 Cup.Of ketchup.
– 1/4 Cup.Of mustard.
– 1/4 Cup.Of chopped pickles (optional).
– Salt and pepper to taste.
– Cooked bacon bits (optional, for garnish)
– Chopped Green onions (optional, for garnish).
PREPARATION:
1st Step
Brown the ground beef all the way through in a pan set over medium heat until it is completely done. Remove any extra fat and put it to the side.
2nd Step
Cook the chopped onions in the same skillet over medium heat until they become transparent. Cook for one more minute after adding the garlic that has been minced. Put the meat, onions, and garlic that have already been cooked into a slow cooker.
3rd Step
Put the potatoes that have been diced and the chicken stock into the slow cooker. Combine everything by stirring, then cover and simmer on low for six to eight hours, or until the potatoes are fork-tender.
4th Step
Melt the butter in a saucepan over medium heat. Create a roux by gradually whisking in the flour using a whisk. Cook for one to two minutes while stirring the mixture regularly. The milk should be added in a gentle stream while continuing to whisk the mixture until it is smooth and has thickened.
5th Step
After adding the cheese to the pot, continue stirring it until it has completely melted and is mixed into the dish. Then transfer the cheese mixture to the slow cooker and give it a thorough stir. Add some ketchup, mustard, and diced pickles, if you're using any of those ingredients. Give everything a good stir.
6th Step
Allow the soup to stew for a further 15–30 minutes on low heat so that the flavors may combine. Season the soup to taste with salt and pepper. Then serve hot, topping each portion with bacon bits and green onions sliced into small pieces, if preferred.