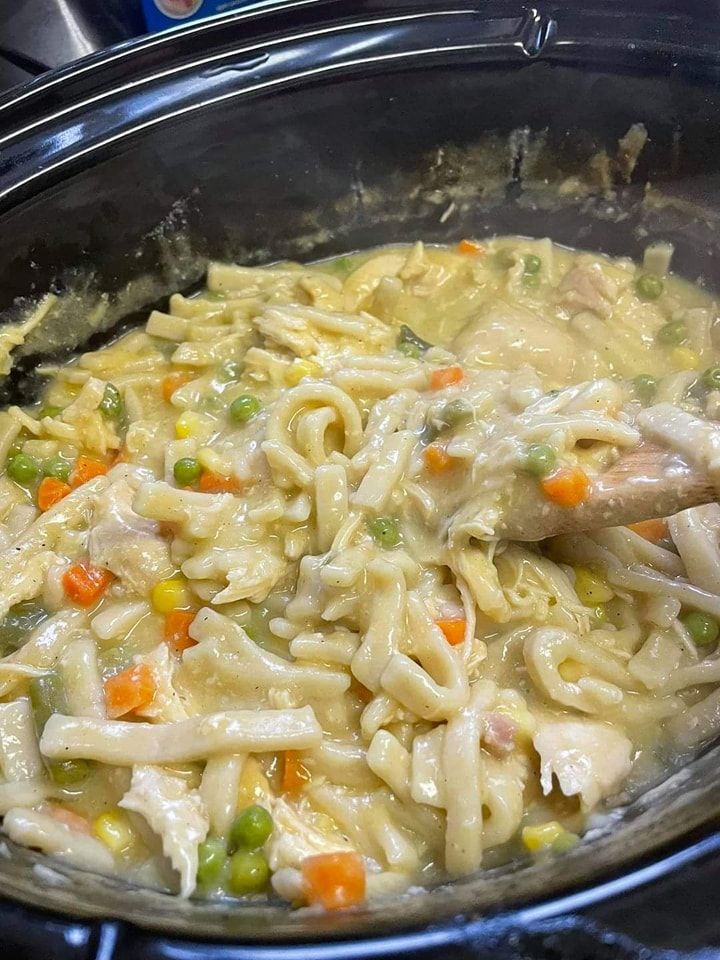 INGREDIENTS YOU'LL NEED:
• 2 frozen chicken breasts (generously sized).
• 1 (32-oz) container.Of 50% less sodium chicken broth.
• 1 packet.Of chicken gravy.
• 1 largesized can of cream of chicken soup.
• 1/2 stick of butter.
• 1 (24-oz) pack.Of frozen noodles.
• 1 (10-oz) bag.Of frozen mixed vegetables.
• Approximately 1/2 Tsp.Of pepper.
• 1/2 Tsp.Of onion powder.
• A sprinkle of dried parsley.
Preparation Method:
1 – First, line the bottom of your slow cooker with the frozen chicken breasts. Make sure the chicken is completely submerged by pouring in enough chicken broth to do so. This makes a tasty foundation for the meal.
2 – To boost the chicken's taste, sprinkle some onion and pepper powder on it. Then, stir in the cream of chicken soup and the chicken gravy mix. These two ingredients used together make a rich and velvety sauce.
3 – To make sure it's uniformly distributed, cut the butter into little pieces and dot it all over the ingredients in the slow cooker. The butter gives the sauce a luxurious depth of flavor and a smooth consistency.
4 – Put everything in the slow cooker, cover it, and simmer on low heat for 6 to 8 hours. By keeping the chicken in the oven for so long, the flavors may blend and the meat can soften.
5 – Mix in the frozen noodles and veggies about 30 minutes before serving. Make sure they're spread out evenly throughout the liquid.
6 – Try some of the broth and season it as you see fit. Dried parsley sprinkled on top not only brightens things up visually but also gives them a somewhat herbal flavor.
7 – Serve this substantial meal hot, after the noodles are soft and the chicken is no longer pink in the middle. The soft noodles and fresh veggies are a wonderful complement to the rich sauce and juicy chicken.
Recipe Tips:
• If you prefer a thicker consistency, you can mix a small amount of cold water with cornstarch and stir it into the slow cooker for about 30 minutes before serving.
• Feel free to customize the veggies to your liking, or even add some extra herbs and spices for a personalized touch.