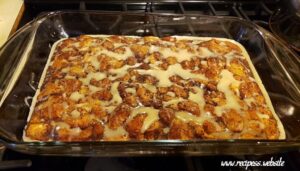 HOW TO MAKE FRENCH TOAST BUBBLE UP
?
French Toast Bubble Up Casserole is an easy and tasty breakfast meal for a large group of people that everyone will enjoy! It may be prepared the night before or the day of, making it an excellent choice for a brunch or holiday breakfast buffet.
Breakfast might be extra-sweet and delicious on certain days, and on others, it's perfectly OK to enjoy. This fantastic recipe for French Toast Bubble Up was created for one of those special occasions: Holiday mornings. It's quick and simple to put together, serves the whole family, and is deliciously sweet. They'll all get out of bed with just one sniff of this!
You'll need to get some bread and chop it up into little pieces for this. When it comes to this French Toast Casserole, I like sourdough or a rustic Italian loaf, but I've used just about every kind of bread, from sourdough to whole grain sandwich bread, and it's always turned out delicious, it alllll works!!! In fact, we've discovered that French Toast in casserole form is much more to our liking! Furthermore, it is less time-consuming than turning individual pieces of bread. While I do create a handful of changes with various toppings, my basic recipe is always the same. You may certainly experiment with other toppings and tastes, and please report back to me on your findings!
Cut a good chunk for yourself and drizzle with maple syrup! I generally melt down some light butter and sprinkle it with some maple syrup to give it that added touch of perfection that it deserves. I hope you like this French Toast Bubble Up Casserole as much as my family and I did! Make sure to let me know how it goes by leaving a comment below, and if you'd want to share it with your friends, that would be much appreciated as well.
INGREDIENTS NEEDED:
Melted butter, I used quarter a stick.
Packed brown sugar; one cup.
8 whole eggs, use medium-sized ones
180 milliliter.Of milk.
2 large spoons.Of vanilla extract.
2 small spoons.Of ground cinnamon.
1 small spoon.Of ground ginger.
A pinch.Of kosher salt.
French bread, I used one loaf cutting to 1-inch cubes.
Salted caramel sauce, to serve (optional).
DIRECTIONS:
Step 1:
To begin, you need to prepare a 9-by-13-inch saucepan with nonstick cooking spray; set aside.
Step 2:
Melt the butter and brown sugar in a medium-sized mixing basin, then whisk until well combined, keep in mind that the consistency of the mixture will be similar to wet sand.
Step 3:
Spread this mixture over the bottom of the mold that has been prepared. You will not have complete coverage; so, put the pot aside.
Step 4:
In a separate dish, whisk the eggs to break up the yolks and combine them.
Step 5:
Then pour in the milk, vanilla, cinnamon, ginger, and a bit of salt, and thoroughly combine all of the ingredients.
Step 6:
Stir thoroughly with a spoon to evenly coat the bread with the egg-milk mixture. Add more egg-milk mixture if necessary.
Step 7:
Place the bread in the prepared pan, cover it with plastic wrap, and place it in the refrigerator for at least 1 hour or up to 12 hours overnight.
Step 8:
Prepare your baking sheet by preheating the oven to 350 degrees Fahrenheit and removing it from the refrigerator while the oven is heating.
Step 9:
Bake for 25 to 30 minutes, or until the caramel sauce has bubbled slightly on the bottom and the top of the bread has a little crust and is gently browned on top.
Step 10:
At this step, you should place a big serving dish on top of the skillet immediately after removing it from the oven and flipping it over so that the skillet "rolls out" onto the serving dish. Because the pan is hot and heavy.
Step 11:
Scrape the caramel sauce from the baking dish into the French toast pan with a spoon.
Step 12:
Serve immediately after drizzling with a little caramel or salted caramel sauce and/or sprinkling with a little maple syrup, if preferred. The greatest recipe for both hot drinks.