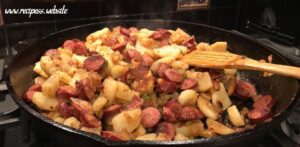 HOW TO MAKE FRIED POTATOES ONIONS AND SMOKE POLISH SAUSAGE?
Cooking in a skillet with sausage and potatoes is a quick and simple dinner that the whole family will love. Cooked in one pot with flavorful onions and sautéed sausages, peppers, and potatoes, this dish is perfect for family breakfasts or weeknight dinners on the move.
Smoked sausage and potatoes go together like peanut butter and jelly, and who doesn't like a recipe that allows you to put everything together in one pan? One-pot dinners are great when you're short on time and your stomach is grumbling! Although the smoked Italian sausage in this dish is wonderful, in my home country of Poland, you would never think of cooking it without the nation's favorite Polish sausage, kielbasa. Fried potatoes and sausage are a traditional dish that is always a success, no matter how you prepare it.
I've found that one-pot dinners like this one are typically devoured in a matter of minutes, but if there are any leftovers, just keep them in the refrigerator in a dish that has been firmly covered. It is expected to keep longer in the fridge than other meats due to the smoking process used to make the sausage. As for the shelf life of potatoes, they are also very long. Keep these leftovers in the fridge for up to a week if you plan ahead.
FOR THIS DINNER RECIPE, YOU'LL NEED THE FOLLOWING INGREDIENTS:
1½ pounds.Of russet potatoes, I diced them into 1/2″ cubes.
A pound.Of sliced smoked sausage.
2 Tbsp.Of olive oil.
½ Tsp.Of seasoned salt.
½ Tsp.Of Italian Seasoning.
½ large red bell pepper.
½ large green bell pepper.
A small diced onion.
Black pepper to taste
Shredded parmesan cheese, for garnish.
DIRECTIONS TO MAKE IT:
Step 1:
In a large pan, saute the onion in a large spoon of butter over medium heat until the onion is translucent.
Step 2:
Secondly, cook the onion until it is soft. Take the onion out of the pan and put it aside.
Step 3:
And in a large skillet, heat 1 tablespoon butter and 1 tablespoon olive oil until the butter is melted, and add Combine the potatoes, seasoned salt, Italian seasoning, and pepper.
Step 4:
After that, cover and simmer, turning occasionally, for 15 minutes, or until the vegetables are somewhat softened.
Step 5:
Then, cook for another 10 minutes after adding the sausage. Combine the onions and peppers in a large skillet and sauté until the peppers are soft crisp.
Step 6:
And finally, If using parmesan cheese, sprinkle it over top.
COOKING NOTE:
Cook the sausage in a separate pan over medium-high heat until it is crisp, while the potatoes are cooking if you like a crisper sausage.