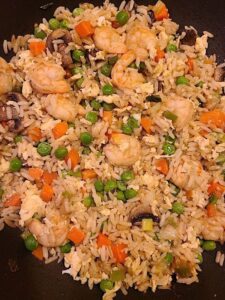 HOW TO MAKE FRIED RICE WITH SHRIMP
If you're craving Shrimp Fried Rice, prepare it at home in minutes instead of ordering takeout. To make a delicious supper that everyone would go wild for, we used shrimp and vegetables since they have the finest taste.
We are huge fans of ordering Chinese cuisine, and fried rice is a go-to dish for us whenever we do. But, if you have a big family and you dine out, it may quickly become very costly, and if you add shrimp to the meal, the cost will go even more.
So I thought, why not find out how to make it myself? Rice is one of the most cost-effective ingredients since a little bit of it goes a very long way. In addition to that, the preparation of this dish is really easy. The preparation of this Chinese Fried Rice takes much less time than ordering it from a Chinese restaurant.
The seasoning is considerably more impressive, and there is little complexity in the components. You will not be tempted to get takeout if you follow this recipe for shrimp fried rice since it is so mouthwateringly delicious and flavorful. This recipe is sure to be a hit with your kids!
Fried rice is one of those dishes that can be prepared either as a main course or as a side dish depending on your needs. You might include a protein like shrimp, chicken, or pork in the recipe. Using leftover cold rice and cooking it in a wok, pan, or on griddle yields the finest results for making fried rice.
Frozen peas and carrots, soy sauce, and scrambled eggs are the standard items that go into making fried rice. Fried rice is easy to cook, and you can customize the ingredients to use anything you have on hand in the kitchen.
INGREDIENTS NEEDED:
1 Pound.Of large shrimp.
3 large eggs; light whisked.
2 Tbsp.Of sesame oil.
2 Tbsp.Of vegetable oil.
4 Cups.Of cooked rice.
3 Tbsp.Of soy sauce.
1 Tsp.Of salt.
1 Tsp.Of pepper.
1/2 Cup.Of frozen peas and carrots blend.
Sliced green Onions.
PREPARATION:
1st Step
In a large pan set over medium-high heat, warm the vegetable oil and the sesame oil respectively.
2nd Step
Next place the shrimp, carrots, and peas in the pan, and use the cooking method of your choice to sauté them for approximately three to five minutes, or until the veggies are tender and the shrimp are fully cooked (pink).
3rd Step
Take the shrimp and the veggies out of the pan and place them on a separate platter. Then, add the eggs to the mixture. Mix up the eggs. Push the eggs to one side of the skillet.
4th Step
After that, put the rice, some soy sauce, some salt, and some pepper into the pan. For about three to four minutes, in a sauté pan over medium heat, toast the rice until it has a light golden color and stir in the spice combination.
5th Step
Then after, mix in the shrimp, vegetables, and scrambled eggs and mix well. Keep stirring for a few minutes, until the rice is completely warm. Add thinly sliced green onions on top.