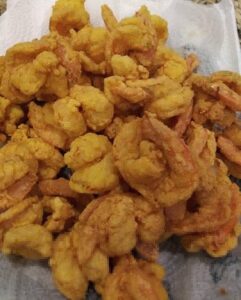 HOW TO MAKE FRIED SHRIMP
You're going to be surprised at how simple it is to prepare fried shrimp at home. Just a few, basic pantry goods to prepare this fried shrimp batter using flour and cornmeal to make it crispy, and now you'll know how to make pan-fried shrimp for quick meals and it will become a genuine favorite!
Get ready to dredge by rolling up your sleeves, getting your pans ready, and getting to work. You will have crispy fried shrimp with old bay cocktail sauce or the dipping sauce recipe I provide below in less than half an hour at home tonight if you use either of these recipes.
The shrimp get such a lovely crust from the combination of flour and cornmeal that is used to bread it. For the crunchiest fried shrimp, use equal parts cornmeal and flour. The cornmeal will bring a crazy crunch, and the flour will add its own lovely touch. The addition of onion powder, garlic powder, kosher salt, and a generous sprinkling of cayenne pepper to the batter is also a great way to add loads of flavor and interest to the final result.
This recipe for fried shrimp has a short and simple list of ingredients, but the resulting dish packs a powerful punch! The following is what you will need:
Vegetable oil; is used enough for frying.
24-oz.Of large raw shrimp; peeled.
FOR THE EGG WASH MIXTURE; I USED:
2 large beaten eggs.
1 Cup.Of buttermilk or milk.
1/2 Tsp.Of kosher salt.
1/2 Tsp.Of black pepper.
AND FOR THE BATTER, I USED:
11/2 Cups.Of all-purpose flour.
1 Cup.Of cornmeal
2 Tsp.Of kosher salt.
1/2 Tsp.Of black pepper.
2 Tsp.Of garlic powder.
2 Tsp.Of onion powder
1 Tsp.Of cayenne pepper.
DIRECTIONS:
1st Step
Over medium heat, bring an inch and a half of oil to temperature in a large, heavy-bottomed pan. In addition to that, like a big plate with a paper towel, and then put it to the side.
2nd Step
Beat eggs and buttermilk together in a shallow dish (like a cake pan or pie plate). Mix in a half teaspoon each of pepper and salt.
3rd Step
In a second pan, combine the flour, cornmeal, salt, pepper, garlic powder, onion powder, and cayenne pepper in a mixing bowl.
4th Step
After the shrimp have been well coated, add them to the egg mixture. The shrimp should be added to the flour in small batches and coated well before being used.
5th Step
While you bread the remaining shrimp, place the finished shrimp on a clean platter. After that, add the shrimp to the skillet, but be careful not to crowd the pan too much.
6th Step
Cook in a hot pan for three minutes, or until the outside is golden and crispy. Drain on the platter that has been prepared. Keep going until all the shrimp are cooked.