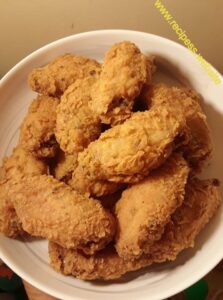 Game day buttermilk wing flats
Ingredients:
2 lbs chicken flats
2 tbsp hot sauce
1 cup Buttermilk
1\2 tsp season salt
Add wings to clean bowl then Buttermilk, season salt, and hot sauce soak overnight or about an hour.
2 cup selfrising flour
1tsp black pepper
1 tsp garlic powder
1/2 tsp paprika
1 tsp italian seasoning
1 /2 tsp adobo
Add flour to large bowl then add all seasonings mix well set aside.
When ready to fry fry at 350 degrees 8 minutes per sides or until golden brown.Game day buttermilk wing flats.
Enjoy.