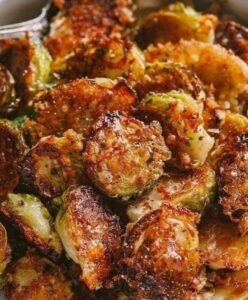 Ingredients:
16 ounces (450 grams) of Brussels sprouts, halved, trimmed, and rinsed.
3 tbsp olive oil (you can use melted butter).
Half a tsp of kosher salt.
Half a tsp of black pepper (cracked).
1 tsp. of Italian seasoning.
3 cloves of garlic, minced.
1/2 cup grated Parmesan cheese, adjust to your preference.
Directions:
Step 1
To prepare the Garlic Parmesan Roasted Brussels Sprouts: Begin by preheating your oven to 400°F (200°C) and ready a spacious baking sheet, optionally lining it with parchment paper for easy cleanup.
Step 2
Then, gently pat dry the Brussels sprouts using paper towels and then transfer them to a spacious mixing bowl.
Step 3
Next, add the olive oil, Italian seasoning, minced garlic, grated Parmesan cheese, kosher salt, and freshly cracked black pepper to the bowl with the Brussels sprouts, and carefully toss to ensure an even coating of the seasonings on the Brussels sprouts.
Step 4
After that, arrange the Brussels sprouts in a single layer on the prepared baking sheet, ensuring they are evenly distributed.
Step 5
Then, bake the Brussels sprouts on the center oven rack for 25-30 minutes until they turn golden brown.
Step 7
Finally, transfer the roasted Brussels sprouts to a serving bowl and, if desired, garnish with fresh chopped parsley.
Tips:
– Choose fresh, firm Brussels sprouts.
– Dry them thoroughly for better seasoning adherence.
– Coat evenly with oil, garlic, Parmesan, and seasonings.
Variations:
– Add a balsamic glaze for sweetness.
– Incorporate toasted nuts for crunch.
Have a nice day!!