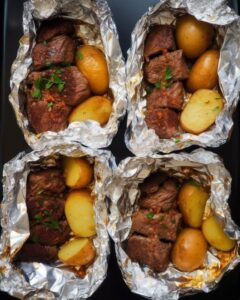 HOW TO MAKE GARLIC STEAK & POTATO FOIL PACKETS
The Garlic Steak and Potato Foil Packets are a gastronomic journey made just for the great outdoors. This dish mixes the bold tastes of steak that have been precisely seasoned with the substantial pleasure of potatoes that have been cooked till soft, all while being imbued with the fragrant appeal of garlic. Enjoying a delectable dinner without the effort of preparation when camping or just appreciating the benefits of preparing food outside is made easier with the help of these lovely foil packets.
The preparation of Garlic Steak and Potato Foil Packets exemplifies the ease and practicality that are inherent in cooking using foil packets. The steak, which has been seasoned, serves as the centerpiece of this meal and lays a foundation that is high in protein. Each mouthful has a delectable combination of aromas and textures thanks to the inclusion of pieces of buttered and seasoned potatoes. The recipe is taken to a higher level with the inclusion of garlic cloves, which provide a fragrant note and infuse every component with a flavorful, aromatic essence. After being wrapped in foil and grilled over an open flame or on a grill, the components combine to form a succulent and tasty whole. This occurs because of the ingredients' ability to melt together.
THE INGREDIENTS LIST:
For the foil packets:
1 ½ Lbs.Of sirloin or ribeye steak, cut into chunks.
4 Cups.Of red or gold potatoes, cut into bite-sized pieces
1 Cup.Of baby carrots.
1 thinly sliced onion.
6 cloves of garlic.
4 Tbsp.Of olive oil.
Salt and black pepper to taste.
Fresh parsley for garnish (optional).
For the seasoning mix:
1 Tsp.Of dried thyme.
1 Tsp.Of dried rosemary.
1 Tsp.Of paprika.
1 Tsp.Of garlic powder.
For Ingredients And Complete Cooking Instructions Please Head On keep on Reading (>)