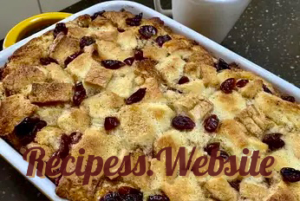 GRANDMA'S OLD-FASHIONED BREAD PUDDING WITH VANILLA SAUCE
I'm so excited that you've come to enjoy this bread pudding with me. Perhaps it will dramatically change your decadent dessert experience. Today, I'm going to share a simple old-fashioned dish that is very delicious! It's similar to my grandma's old-fashioned dessert recipe that we all like! It's simple, and it's made using everyday ingredients!!
This recipe for old-fashioned bread pudding will warm your heart and mind. Served à la mode with our vanilla sauce for bread pudding and a sprinkle of raisins, it is lightly flavored with nutmeg and flecked with raisins. Definitely one of the best!
INGREDIENTS LIST:
8 slices.Of white bread, cut into cubes.
½ Cup.Of raisins.
2 Cups.Of whole milk.
¼ Cup.Of softened butter.
½ Cup.Of white sugar.
2 whole eggs, slightly beaten.
1 T spoon.Of vanilla flavoring.
½ t spoon.Of ground nutmeg.
SAUCE INGREDIENTS:
½ Cup.Of softened butter.
½ Cup.Of granulated sugar.
½ Cup.Of firmly packed brown sugar.
½ Cup.Of heavy whipping cream.
1 T spoons.Of vanilla extract.
DIRECTIONS:
Step 1:
The oven should be preheated at 350 degrees Fahrenheit. In a large mixing basin, combine the bread and raisins. In a 1-quart saucepan, combine the milk and 1/4 cup of the butter.
Step 2:
And cook over medium heat, stirring constantly, until the butter is melted, for approximately 4 to 7 minutes.
Step 3:
At this point, you need to pour the milk mixture over the bread and set it aside for 10 minutes.
Step 4:
Then, combine all of the remaining pudding ingredients in a large mixing bowl, and pour the mixture into a greased 1½-quarts pan.
Step 5:
And, bake your bread pudding for 40 to 50 minutes, just until the middle is completely set. In the meanwhile, you can prepare the vanilla sauce!!!
HOW TO MAKE THE FAMOUS VANILLA SAUCE:
Step 1:
In a 1-quart saucepan, just combine all of the sauce ingredients except the vanilla mixing well until you have an incorporated mixture.
Step 2:
Then, cook it stirring regularly, over medium heat until the mixture thickens and comes to a full boil, for 5 to 8 minutes, and add the vanilla extract and mix well.
Step 3:
To finish, you need to serve the pudding onto individual dessert bowls and top with the vanilla sauce.
ENJOY IT!!